Republican senators led by Sen. Mitt Romney, are urging the Biden administration to re-start construction of the wall at the southern border — just as the country faces a fresh crisis with the ending of Ttle 42 later this week.
"The Administration has failed to acknowledge the crisis at our border, and is recognizing in the eleventh hour that the upcoming removal of Title 42 authorities, and the subsequent surge in border crossings that is predicted, will have disastrous effects on the security of our nation," the letter to DHS Secretary Alejandro Mayorkas says.
The lawmakers argue that the decision in early 2021 to end border wall construction has "contributed significantly to the acute humanitarian crisis brought about by illegal immigration" and are requesting "more information on the status of the border wall in anticipation of future congressional action."
Joining Romney on the letter are Sens. John Barrasso, R-Wyo., Ted Budd, R-N.C., Bill Cassidy, R-La., Kevin Cramer, R-N.D., Mike Crapo, R-Idaho, Steve Daines, R-Mont., Deb Fischer, R-Neb., John Hoeven, R-N.D., James Lankford, R-Okla., Cynthia Lummis, R-Wyo., Jim Risch, R-Idaho, Marco Rubio, R-Fla., J.D. Vance, R-Ohio, and Todd Young, R-Ind.
BORDER PATROL APPREHENDS OVER 10,000 MIGRANTS A DAY AHEAD OF TITLE 42'S END, HIGHEST EVER RECORDED 
Over 450 miles of wall were constructed during the Trump administration, before construction was abruptly halted by the Biden administration, something Biden had campaigned on. The administration also canceled contracts. Biden received praise from his Mexican counterpart earlier this year for his opposition to wall construction.
"You are the first president of the United States in a very long time that has not built even one meter of wall," Lopez Obrador told Biden at the North American Leaders' Summit in Mexico City. "And we thank you for that, sir, although some might not like it, although the conservatives don't like it."
BIDEN ADMIN TALKS 'TOUGHER' ON BORDER AHEAD OF TITLE 42'S END – BUT MIGRANTS AREN'T LISTENING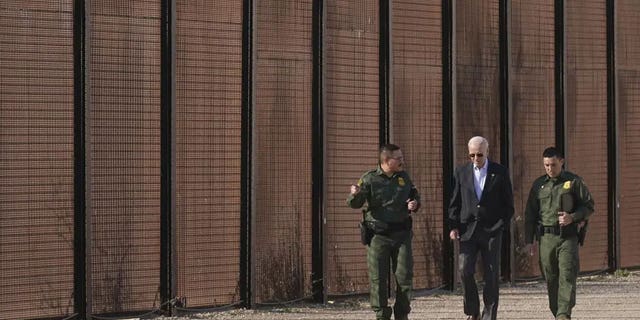 A DHS official says that the agency is instead prioritizing "smart border security solutions grounded in evidence, and making historic investments in technology." It's noted its increase in resources for processing and personnel to maintain systems that can manage twice as many people. The official noted that the FY2024 budget provides $113 million for additional personnel for Customs and Border Protection (CBP.)
Meanwhile, the administration has moved to close some gaps — including in Arizona. Mayorkas told a Senate hearing in April that there are almost 130 projects approved to deal with gaps and to install gates. DHS says that the department has already closed 55 gaps and gates, and is working towards additional closures. 
The lawmakers are not impressed however: "While closing small gaps in existing portions of the wall may be better than nothing, the border wall remains incomplete with no apparent plan for additional construction."
The ending of wall construction coincided with a massive surge in migration at the border. The lawmakers note that there were nearly 600,000 gotaways in FY 2022, in addition to the more than 2.3 million migrant encounters.
BORDER PATROL CLEARS WAY FOR MORE MIGRANT RELEASES TO CITY STREETS, SOURCES SAY
Those numbers are expected to see increases in the coming days with the end of the Title 42 public health order — which has allowed for the rapid expulsion of migrants at the border due to the COVID-19 pandemic. Officials have seen over 10,000 migrant encounters a day this week so far. 
"When our border is overwhelmed and unsecured, there is a higher likelihood that dangerous, illegal immigrants will slip through the cracks and threaten the safety of our communities," they say, noting the recent mass shooting in Texas by an illegal immigrant.
CLICK HERE TO GET THE FOX NEWS APP
The lawmakers also suggest that recent deployments like that of over 1,500 troops to the border may not be necessary if there was a fully constructed wall at the border.
"Perhaps the crisis would be more manageable. Terrorists, traffickers, and other bad actors know about our country's failure to secure the border and they continuously exploit those weaknesses," they say. "There is a glaringly simple solution right in front you: we must finish the border wall."
A spokesperson for DHS told Fox Digital that it responds to congressional correspondence through official channels and that the department "will continue to respond appropriately to Congressional oversight."