Taylor Swift was showered with affection this weekend, not only from beau Travis Kelce, but also from her fans in Argentina.
The latter took their adoration too far, throwing obscure objects onstage during Swift's final performance in Buenos Aires. The "Cruel Summer" singer politely pleaded with her fans, asking them not to continue with what has become a rampant concert trend.
"And just um – just because communication means having gentle, healthy boundaries, it really freaks me out when stuff gets thrown on the stage," she shared with her audience in a fan-recorded video, as she continued to transition into the "Evermore" portion of her set.
TAYLOR SWIFT RUNS TO KISS TRAVIS KELCE AFTER HE ATTENDS HER SECOND ERAS SHOW IN ARGENTINA
LIKE WHAT YOU'RE READING? CLICK HERE FOR MORE ENTERTAINMENT NEWS
"Because if it's on the stage, then a dancer can trip on it… And I love that you brought presents. And that is so nice, but just, can you please not throw them on the stage? I love you so much."
Some social media users suggested that the objects thrown were bras. In recent months, artists such as Kelsea Ballerini, Harry Styles and Bebe Rexha have been hit with objects while performing.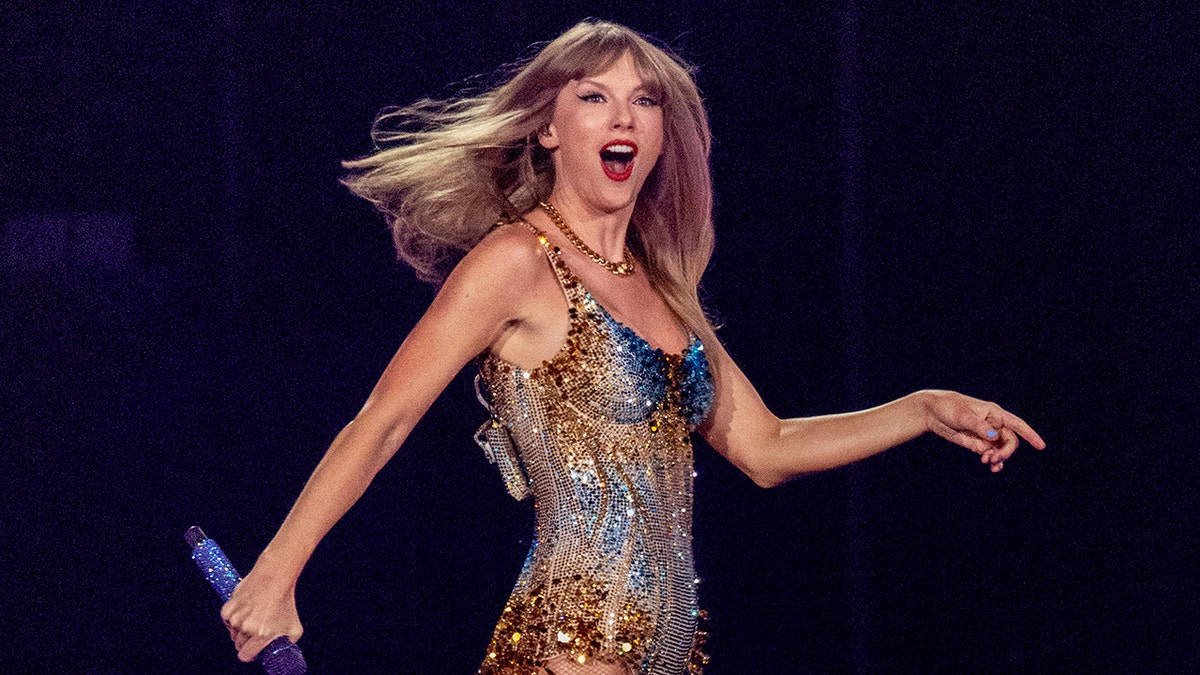 Sunday was the final of three shows Swift played in the country. The previous evening, Swift's fans went bonkers after spotting Kelce in the crowd alongside the singer's father. 
During Swift's final song, "Karma," she intentionally changed the lyrics to reference the NFL tight end. "Karma is the guy on the Chiefs, coming straight home to me," she sang. Kelce's team, the Kansas City Chiefs, had a bye week, allowing the athlete to travel. 
WATCH: TAYLOR SWIFT CHANGES THE LYRICS TO HER SONG 'KARMA' TO INCLUDE NOD TO TRAVIS KELCE
CLICK HERE TO SIGN UP FOR THE ENTERTAINMENT NEWSLETTER
After the concert was over, Swift was spotted gleefully running into Kelce's arms and giving him a kiss. The video went viral online, with fans in disbelief at their public display of affection. Swift's previous six-year relationship with actor Joe Alwyn rarely produced similar public moments.
WATCH: TAYLOR SWIFT SPOTTED RUNNING TO AND KISSING TRAVIS KELCE AFTER CONCERT IN ARGENTINA
CLICK HERE TO GET THE FOX NEWS APP
Swift's next stop on the international portion of her Eras Tour will be in Rio de Janeiro, Brazil, on Nov. 17. Kelce's next game will be a rematch of Super Bowl LVII on Nov, 20, with the superstar facing his brother Jason and the Philadelphia Eagles.