Tennessee police on Monday arrested a second suspect in the alleged May 4 rape of a college student who had been visiting Nashville from Kentucky with her friends.
Chattanooga police arrested Trevor Casteel, 27, in his hometown Monday, 18 days after the alleged attack, and he is set to be extradited to Nashville "soon," according to the Metropolitan Nashville Police Department (MPD).
MNPD officials identified another suspect in the case, 26-year-old Joseph Farmer, earlier this month. The two suspects are accused of kidnapping the college student off Broadway, raping her and then using her debit card.
The woman told investigators that she believes she was drugged at a popular bar and music venue called Honky Tonk Central on Nashville's famous Broadway around 9 p.m., prior to interacting with the suspects, according to a police affidavit.
NASHVILLE SUSPECTS IN ATTACK ON COLLEGE STUDENTS HAVE LENGTHY RAP SHEETS
She alleged that the two suspects, who have lengthy criminal records, sexually assaulted her that evening despite her pleas to "stop, get off." 
KENTUCKY COLLEGE STUDENT DRUGGED, RAPED AFTER NIGHT OUT IN NASHVILLE: POLICE
They also allegedly drove her around that evening in a Jeep Grand Cherokee, which she was able to recognize because her mother drives the same kind of vehicle, and used her debit card at various places, including an ATM, a gas station and a Waffle House.
The victim's debit card history included an $303 withdrawal from an ATM, an $83.22 charge at a Shell gas station and a $12 charge at a Waffle House, according to the affidavit.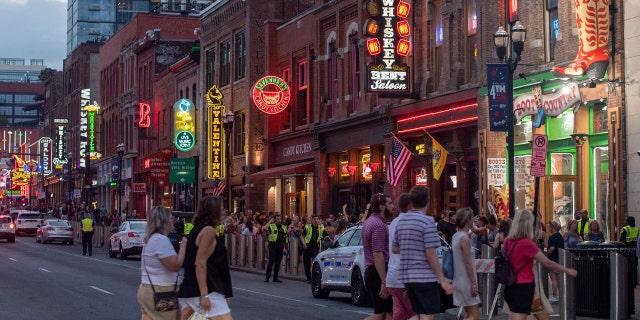 The suspects eventually allowed the victim to use her phone to coordinate a drop-off location at a McDonald's on Broadway, where her friend picked her up – reportedly without ever seeing the suspects, police said.
MADISON BROOKS DEATH: LSU STUDENTS HAILED AS GOOD SAMARITANS AFTER ALLEGED BATON ROUGE RAPE
The victim filed a report with MNPD's Special Victims Unit the next day, and she later identified the suspects, according to the department.
ATM video footage obtained by investigators "shows extremely clear video of the Jeep, the victim and both Black male suspects," the affidavit states.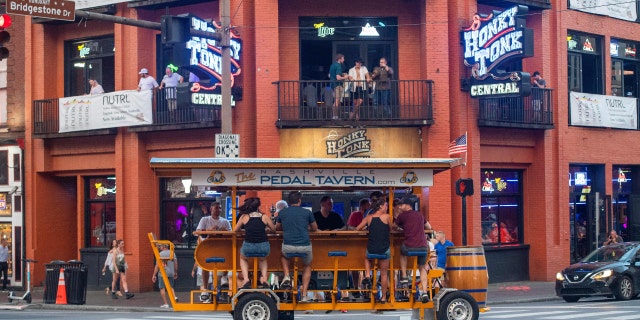 Card records indicated a $35 parking garage fee on the night of the alleged crime. Investigators determined that a Jeep Grand Cherokee left the same parking garage in downtown Nashville that evening. Police used license-plate recognition technology to determine the Jeep's travel path after it left the garage. 
NASHVILLE COVENANT SCHOOL SHOOTER'S UNREDACTED MANIFESTO GIVEN TO JUDGE AHEAD OF PUBLIC HEARING: REPORT
On May 5, officers noticed Farmer and Casteel, who was wanted on three unrelated warrants, involved in a narcotics transaction on 4th Avenue South in Nashville, police said. The men fled, and officers caught up with Farmer, who they said had drug baggies and cash, but Casteel got away.
Farmer later admitted to investigators that he and the woman used drugs and had sex on May 4, but he said it was consensual, police said.
NASHVILLE COVENANT SCHOOL SHOOTER'S UNREDACTED MANIFESTO GIVEN TO JUDGE AHEAD OF PUBLIC HEARING: REPORT
Farmer and Casteel are each charged with aggravated rape, aggravated kidnapping, five counts of credit card fraud and theft. Nashville police have not released a mug shot for Farmer, who is also facing two counts of drug possession and is being held without bond.
Davidson County District Attorney Glenn Funk's office declined comment "[g]iven that this is a pending criminal matter." MNPD Police Chief John Drake did not immediately respond to inquiries from Fox News Digital about the suspects' criminal histories.
Authorities are asking anyone with information about the incident to contact 615-742-7463.