5/9/2023 – School shootings are on the rise. Last year was the highest number of shootings since EdWeek began tracking the issue in 2018. So far this year, there have been 19 shootings in K-12 schools resulting in 30 people killed or injured and communities are grappling with how to stop the violence. 
At a school safety town hall in Virginia Monday night, parents told FOX mental health and communication should be among the top concerns for school districts.
"We do need to have information, concrete information, so I can make a solid risk decision about whether or not the school is safe enough for my daughter," said Dan Verton, parent of a student in Fairfax County Public Schools.
"I think that more emphasis on counseling and sort of the emotional support in the school, really make me feel better about sending my daughters here," said Paul Thomas, also an FCPS parent.
NASHVILLE SCHOOL SHOOTING: 6 KILLED INCLUDING 3 STUDENTS, SHOOTER DEAD
Some see arming educators as a way to fight back in the event of a shooting at school. FOX spoke with a group in Texas called the Cinco Peso Training Group, which has made it their mission to equip educators with the resources to protect themselves and their students against an armed intruder.
"The term we use for that is immediate responder," said Mike Lane, a co-founder of the group. Lane is a retired police captain and current police chief at a Texas public school.
Over 40 districts in Texas have educators who have completed the training, but Lane said that there are a lot of conversations before anyone picks up a firearm.
"We took the basic model that a police officer will get in the academy and expanded on that by a long, long shot along a lot more detail training on it," he said.
First, the superintendent and school board decide whether they want to allow armed faculty. Then they ask for community response. If the community supports the idea, the district goes to the faculty to see if anyone wants to volunteer. All "defenders" — the term Lane and his team use to talk about those who complete the training — are volunteers. No one is required to take this training.
For those interested, Lane said his group does extensive psychological evaluations and background checks before they admit someone in their training. All defenders also need to work in their district for about two years so colleagues can attest to how they handle pressure and stress. Lane said he narrows the pool of applicants based on these evaluations. The training goes beyond firearms and includes the national Stop the Bleed program, which teaches people how to respond to victims in life-threatening situations. After they complete the multi-day training, defenders are back on the range monthly to maintain their skills.
NASHVILLE POLICE TO RELEASE MANIFESTO IN CHRISTIAN SCHOOL SHOOTING MASSACRE
All of this training, said Lane, will save lives.
"If you equip people, and you empower them with training, and provide them with the tools to react in an emergency, it will without doubt make a difference in the number of casualties, injuries or any other problems, regardless of the type of event," he said.
Lane added that defenders are not a substitute for first responders, and they're not trained to take down an attacker. The purpose is to give educators the ability to defend themselves and their students.
"We just want to prepare and protect those children and staff members best as we can to fill in that gap between the time of the incident until the first responders have the ability to arrive," he said.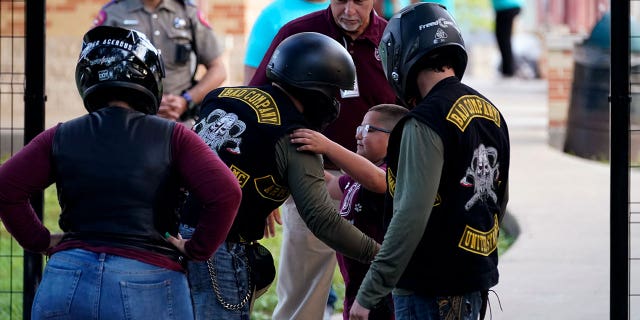 One superintendent, who self identified as a defender, said he thinks the program is even more crucial after recent shootings in rural areas like his.
"The tragedy in Uvalde really was a wakeup call to small rural communities all across our state that school safety and security has to be our top priority," said Brad Burnett, superintendent of Jacksboro Independent School District located about two hours outside Dallas.
Burnett said the defender program was already in place when he became superintendent, but as someone who went through the training, he supports giving his staff the option to be armed.
"We've seen a lot of support in our community and also just in our region to train educators to carry a firearm to protect students. So, I see it as a positive thing as a school leader," he said.
SCHOOL DISTRICTS ACROSS AMERICA CONSIDER ARMING TEACHERS IN AFTERMATH OF NASHVILLE SCHOOL SHOOTING
Critics say more guns in the classroom is not the answer to school safety.
"Let's just be very clear about the situation we're talking about here," said Kris Brown, president of the gun safety group Brady United. "An educator teaching a class with 20, 30, 40 students in the room, being expected to have access easily to a firearm, want to use it, and then successfully shoot the shooter without having any carnage of any other students."
Brown said she was also concerned students could get access to the firearm. 
"There is a real risk that that gun will be found by a student when the teacher is going to the bathroom," she said. "Are they supposed to strap fully loaded all of the time as they're teaching? And how the kids feel about a teacher who's carrying a loaded weapon?"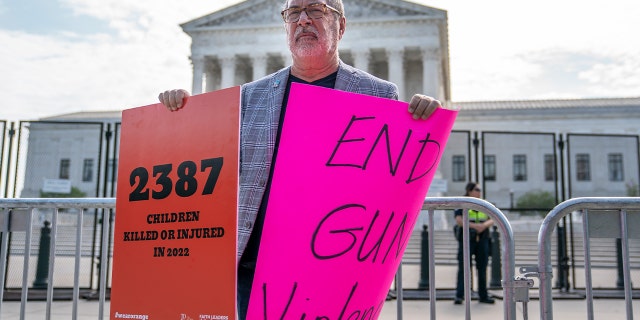 Brown said her group supports the Bipartisan Safer Communities Act passed by Congress last year. The legislation allocated money for crisis intervention, barred those convicted of domestic violence from owning a firearm, and increased funding for school security. 
Parents in Fairfax County said firearms in schools makes them uncomfortable even with adequate training.
CLICK HERE TO GET THE FOX NEWS APP 
"I've been a Homeland Security professional for decades, and former Marine, so arming teachers is the worst idea you could possibly come up with," said Verton. "You cannot put a teacher who's never handled a firearm, or in a stressful situation like that, give them a gun, and have them be able to make that split decision."
Sixteen states – including Virginia – currently prohibit staff from having firearms in school. Over 30 states, however, do allow educators to carry a weapon, but many have restrictions and stipulations.