Pro-Palestinian rioters vandalized a police cruiser in New York City on Thursday, as they voiced opposition to Israel amid calls for an immediate cease-fire. 
Around 5 p.m., a group occupied the lobby of the New York Times building and some spray-painted "Free Gaza" on an NYPD vehicle outside the building. On another side of the cruiser, "KKK" and "IDF," referring to the Israel Defense Forces, were also spray-painted. 
A smoke bomb was also reportedly set off nearby. Fox News Digital has reached out to the NYPD. 
PINK FLOYD'S ROGER WATERS PONDERS WHETHER HAMAS ATTACKS WERE A 'FALSE FLAG OPERATION'
The rioters demanded Israel stop its bombardment of the Gaza Strip following the brutal Oct. 7 attacks on Israeli communities by Hamas terrorists. 
"Their lives also matter," one person said of the 2 million people living in Gaza, FOX 5 reported.
A group calling themselves the "Writers Bloc" then read off the names of Palestinians skilled in Gaza, including at least 36 journalists allegedly killed since the war began. They also accused the media of being complicit in "laundering genocide" and called on the Times editorial board to call for a cease-fire. 
Pro-Palestinian supporters have flooded the streets of several cities around the world to criticize Israel.
"They say Israel has the right to defend itself," said Moustafa Mohammed told WPIX11. "This is not self-defense anymore. You cannot keep killing innocent people and claiming self-defense."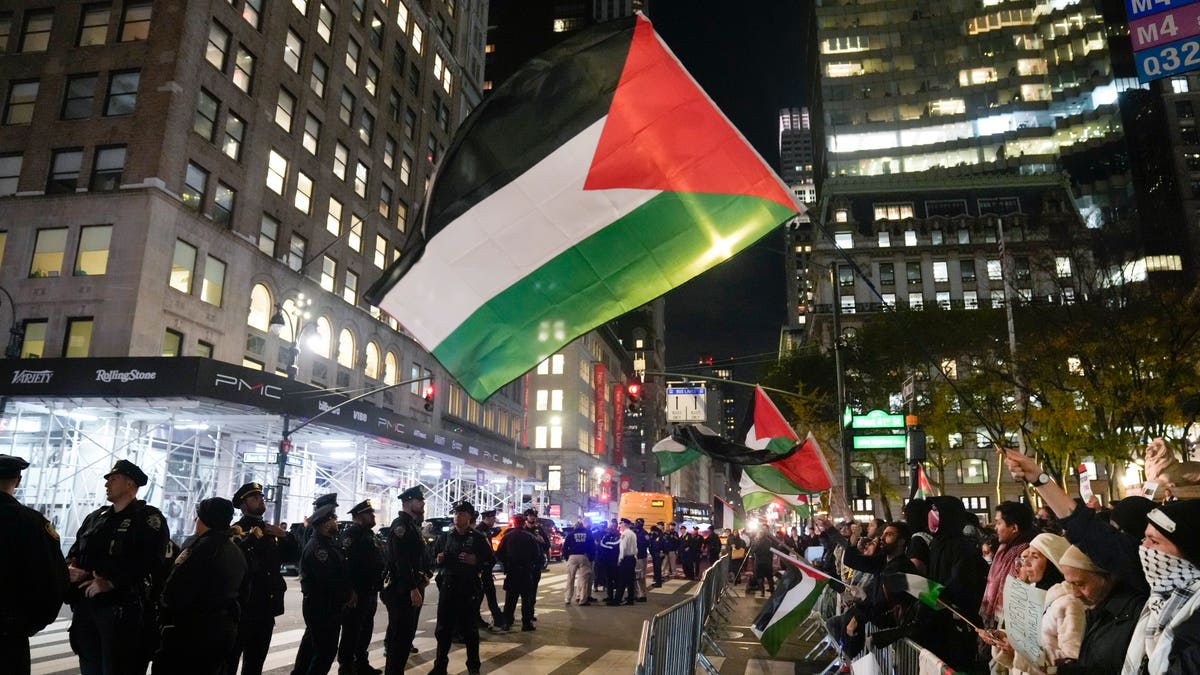 The demonstration at The Times was the latest in a series of actions at high-profile locations in New York intended to bring attention to the growing death toll in Gaza.
CLICK HERE TO GET THE FOX NEWS APP
On Tuesday, activists with the group Jewish Voice for Peace briefly took over the Statue of Liberty. The week prior, hundreds of people packed into Grand Central Terminal, shutting down the commuting hub during rush hour while hoisting banners that read "Ceasefire Now."
More than 10,800 people have been killed in Gaza, according to the Health Ministry in the Hamas-run territory, since the Oct. 7th massacre by Hamas, which took the lives of at least 1,400 people in Israel.
The Associated Press contributed to this report.