Ithaca College in New York has long been considered a safe and welcoming place for LGBTQ+ students, and since Fall 2022 the college has taken its inclusivity to the next level by providing a separate dorm for transgender and nonbinary students.
The 20-bed residential community which is available to rising sophomores, juniors, and seniors operates "to provide an inclusive space for non-cis identifying students and to create a supportive community on campus," according to its website.
Ithaca College stated that the separate housing for transgender and nonbinary students was needed since "typical housing infrastructures throughout higher education tend to unintentionally center cisgender students, and are not always adequate to meet the needs of transgender and nonbinary students."
GOP BILL WOULD PROTECT PARENTS WHO REFUSE TO TRANSITION THEIR CHILD'S GENDER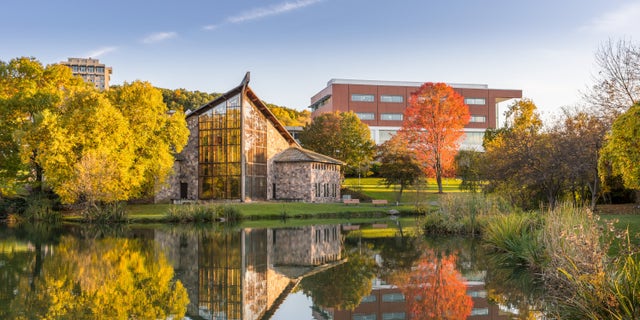 Students who apply to live in the college's transgender and nonbinary housing will have single occupancy all-gender restrooms available, Americans with Disabilities Act (ADA) accommodations, as well as a close proximity to the LGBTQ+ campus center. 
The new housing, which opened in the fall semester, attempts to create a sense of community "with peers, peer leaders, and faculty" through "opportunities for students to discuss identity, privilege, and oppression as it relates to gender" as well as to "support students and help prepare students for academic success." 
OMNIBUS BILL EARMARKS $750K FOR TRANS GROUP THAT WANTS TO INJECT LGBTQ 'DISCOURSE' IN ELEMENTARY SCHOOLS     
"I am most excited to see and interact with other students involved in the Residence Learning Communities (RLC)." Cecil Decker, a student at Itahaca College, told the college. "The opportunity to see people truly inhabit the space and live as their full selves is an incredible privilege. The ability to create and be a part of this shared space and experience is a wonderful addition for any current or future transgender and nonbinary student at Ithaca College."  
In 2016, the college announced a housing policy which allowed students to select roommates "regardless of their sex or gender," according to The Ithacan, the student newspaper. 
Campus Pride, a non-profit addressing the campus environment for LGBTQ+ students, lists 427 colleges with gender-inclusive housing options. The list shows that at least one college in all 50 states has gender-inclusive housing with California, Massachusetts, Pennsylvania, and New York having the most options for LGBTQ+ students. 
Ithaca's Campus Pride rating is five out of five stars, based on policies, recruitment, resources, and other areas of assessment. 
A "LGBTQ-Friendly Report Card" means that a college includes a "procedure for reporting LGBTQ related bias incidents and hate crimes," "regularly offers educational events surrounding intersectionality of identities for LGBTQ people," and has "paid staff with responsibilities for LGBTQ support services."
CLICK HERE TO GET THE FOX NEWS APP
Campus Pride also has a "Worst List: The Absolute Worst Campuses for LGBTQ Youth" which identifies the "absolute worst, most unsafe campuses for LGBTQ youth" in the United States.
Ithaca College did not immediately respond to Fox News Digital's request for comment.