Veterans Day is a significant national holiday in the United States, observed on Nov. 11 each year. The day serves as an opportunity to express gratitude and pay tribute to the brave men and women who have served in the U.S. armed forces. 
This day is a time to celebrate their sacrifices, valor and commitment to defending our freedom. Let's explore various ways to celebrate Veterans Day, both as a nation and as individuals, to ensure our veterans feel appreciated and respected for their service.
Attend local parades and ceremonies
Visit veterans' hospitals and homes
Donate to veterans' charities
Support veteran-owned businesses
Educational activities
Send letters and care packages
Fly the American flag
Organize community service projects
Attend Veterans Day concerts and events
Engage in acts of kindness
1. Attend local parades and ceremonies
Throughout the nation, communities unite to pay heartfelt tributes to veterans by orchestrating a diverse array of events, ranging from grand parades to solemn memorial ceremonies. These gatherings provide an invaluable opportunity not only to express your unwavering support for our veterans but also to foster a sense of unity and connection with your fellow citizens in commemorating the sacrifices and dedication of those who've served our country.
To engage in these meaningful celebrations, it's advisable to stay vigilant about local event listings, ensuring that you don't miss any of the upcoming ceremonies. By actively joining in these community-driven initiatives, you not only honor veterans but also contribute to the collective recognition of their extraordinary contributions to our nation.
2. Visit veterans' hospitals and homes
Spending quality time with veterans residing in hospitals or living in specialized care homes extends a compassionate hand, offers emotional support and plays a pivotal role in combating the profound sense of isolation that some veterans may experience.
Many of these facilities eagerly embrace the presence of volunteers and visitors who are willing to share their time and engage in genuine interactions with veterans. By reaching out to your local veterans' hospitals and homes, you can inquire about the various opportunities available to connect with veterans, listen to their stories, sharing your gratitude and make a positive impact in their lives. Your companionship and support can brighten their days and enrich their sense of community.
VETERANS DAY IS NOT ALWAYS EASY FOR OUR HEROES – HERE'S WHAT TO SAY AND DO
3. Donate to veterans' charities
A multitude of reputable charities stand steadfast in their mission to provide unwavering support to veterans and their cherished families. You, too, can play an active role in making a significant difference in their lives. There are several ways to extend a helping hand.
A few well-known veterans' charities that have gained widespread recognition for their dedication and commitment include the Disabled American Veterans (DAV), the Wounded Warrior Project, and the Fisher House Foundation. By supporting these organizations, you are contributing to a network of assistance that has touched the lives of countless veterans and their families.
Whether you choose to donate funds or essential items, your generous contributions can bring much-needed relief, comfort and hope to those who have selflessly served our country. It's a powerful way to express your gratitude and make a positive impact on veterans' lives.
4. Support veteran-owned businesses
An additional and highly commendable method of showing your respect and appreciation for veterans is by actively supporting businesses owned by former military personnel. Post their service, many veterans transition into the realm of entrepreneurship, driven by the same determination and dedication that characterized their military careers. Opting to patronize these veteran-owned businesses is not just a gesture of support; it's a tangible way to boost their success and celebrate their continued contributions to society.
These businesses often span various industries, ranging from restaurants and retail stores to service providers and professional services. By becoming a patron of these enterprises, you are directly contributing to the growth and prosperity of veterans who have chosen the path of entrepreneurship.
In addition to the satisfaction of obtaining high-quality products or services, your support fosters a sense of unity and camaraderie within the community. This gesture goes beyond economic transactions; it exemplifies the resilience, innovation and entrepreneurial spirit of veterans, echoing their commitment to excellence that they displayed during their military service.
5. Educational activities
Veterans Day provides a unique and important opportunity to deepen your understanding of the profound sacrifices and enduring contributions of veterans woven throughout American history. It's a day to not only honor their service but also to educate yourself and your family about the rich tapestry of their experiences. One meaningful way to do this is by exploring museums, historical sites or exhibitions that are dedicated to military history.
Visiting these hallowed places and engaging with the artifacts, stories and memorabilia on display can be an enlightening and emotionally resonant experience. It's an opportunity to connect with the past, to gain insights into the challenges and triumphs of veterans, and to foster a sense of empathy for the profound impact their service has had on the nation.
By immersing yourself in the history and narratives of veterans, you not only pay tribute to their service but also ensure that their stories are carried forward so that their sacrifices are never forgotten.
6. Send letters and care packages
Showcasing your deep appreciation for the dedication and sacrifice of active-duty service members and veterans can take many heartfelt forms, one of which is by penning sincere letters or assembling thoughtful care packages. Numerous organizations specialize in facilitating these acts of kindness, with Operation Gratitude being just one notable example.
Crafting personal messages of gratitude and support, whether handwritten or typed, is more than a simple gesture; it's a source of genuine comfort and encouragement to those who have selflessly served our nation, as well as those currently serving. Your words, filled with appreciation and respect, can reach the hearts of these individuals, reminding them that their service is valued and that their sacrifices are not forgotten.
By participating in these expressions of appreciation, you not only honor the commitment of active-duty service members and veterans but also affirm the unwavering bond between them and the grateful citizens they serve. It's a powerful way to make a meaningful difference and demonstrate your sincere gratitude.
VETERANS DAY AND ITS HISTORY: 6 KEY FACTS TO KNOW 
7. Fly the American flag
Traditionally, one of the most poignant and widely recognized ways to pay tribute to veterans is by proudly displaying the American flag. On Veterans Day, it's not only encouraged but a heartfelt gesture to hoist the flag at your home, workplace or within your local community spaces. However, when displaying the flag, it's important to adhere to proper flag etiquette, ensuring that it is shown the respect it deserves.
In observance of Veterans Day, many choose to fly the flag at half-staff until noon, a symbolic gesture that signifies mourning for those who've made the ultimate sacrifice in service to their country. After noon, it is then raised to full staff, representing the nation's resolve to carry forward and ensure that the principles of liberty and freedom endure.
The sight of the American flag, unfurled and proudly displayed, serves as a poignant reminder of the sacrifices made by veterans and an enduring symbol of the values they have defended. It is a powerful and unifying tribute, one that evokes a sense of unity and respect for those who have served our nation.
8. Organize community service projects
Many communities come together on Veterans Day to organize volunteer projects that aim to provide support to veterans and military families. It's a heartfelt way to actively demonstrate your appreciation and gratitude for their service. To partake in these meaningful acts of service, consider joining local organizations or community groups that are dedicated to these initiatives.
BEFORE THERE WAS VETERANS DAY, THERE WAS ARMISTICE DAY
The volunteer activities organized for Veterans Day often encompass a wide range of efforts. These can include cleaning up veterans' cemeteries, renovating veterans' homes or offering assistance to veterans in need. These hands-on projects not only enhance the well-being and living conditions of veterans and their families but also symbolize the community's commitment to serving those who have served us.
By uniting with these local organizations and participating in these acts of service, you become an integral part of the collective effort to make a positive impact in the lives of veterans. It's a tangible way to show your support and honor their dedication to our country.
9. Attend Veterans Day concerts and events
Concerts, art exhibitions and special performances unfold across the nation to celebrate Veterans Day. These events offer not only entertainment and enjoyment but also serve as a platform to support the creative expression and talents of veterans and artists connected to the military.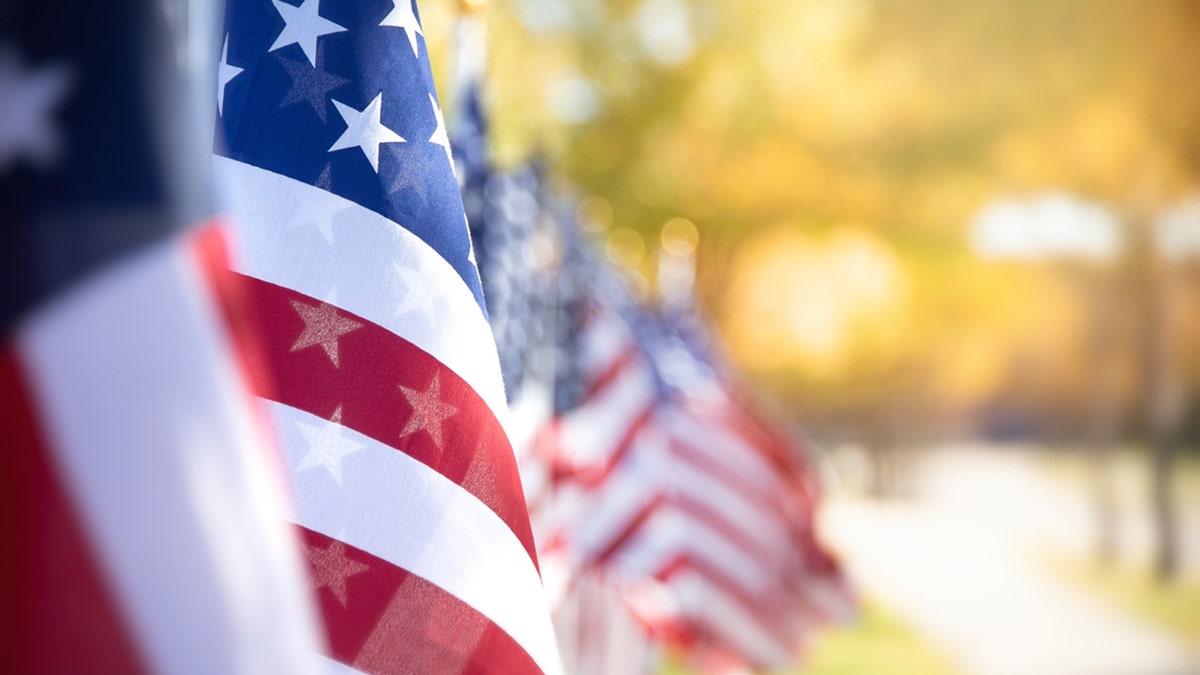 Participating in these cultural experiences is not only a form of celebration but also a demonstration of appreciation for the diverse talents and artistic contributions of veterans. These events provide a stage for veterans to showcase their creative endeavors, be it through music, visual arts or other forms of expression. Moreover, they offer a sense of unity and an opportunity to connect with the broader community in celebrating the vibrant arts and culture that veterans bring to our society.
CLICK HERE TO GET THE FOX NEWS APP 
10. Engage in acts of kindness
Simple acts of kindness can make a significant difference in a veteran's life. Offer assistance, run errands or provide meals to veterans in your community. These small gestures can have a meaningful impact on their well-being.
Veterans Day is a time to come together as a nation and express our gratitude to the individuals who have selflessly served in the U.S. armed forces. Celebrating Veterans Day can take many forms, from attending parades and ceremonies to volunteering, supporting veterans' charities, and educating ourselves and our communities about the sacrifices made by our veterans. 
By showing our appreciation, we ensure that our heroes feel respected, valued and appreciated for their dedication to preserving our freedoms.