Hundreds gathered Sunday at a Ventura County, California, intersection where a week earlier, a 69-year-old Jewish man struck his head on concrete and later died after a confrontation with an unnamed pro-Palestinian protester. 
Flowers, wreaths, candles and letters surrounded the spot in front of the gas station at Westlake and Thousand Oaks Boulevards, where Paul Kessler sustained his fatal injuries. 
One man held a sign that read, "We want justice for Paul," per footage shared with Fox News Digital. Others bandied Israeli flags and sang "Oseh Shalom" — a Hebrew song praying for peace for the country, its people and the world.
PRO-PALESTINIAN PROTESTER 'TRIED TO BAIT' ELDERLY JEWISH MAN BEFORE FATAL ALTERCATION, WITNESS SAYS
Blood still marked the ground where Kessler's head struck the sidewalk in widely-shared footage from around 3:30 p.m. on Nov. 5 showing medics attending to a bleeding but alert Kessler at the scene as police questioned onlookers.
ELDERLY JEWISH MAN DIES AFTER CONFRONTATION WITH PRO-PALESTINIAN PROTESTER AT CALIFORNIA RALLY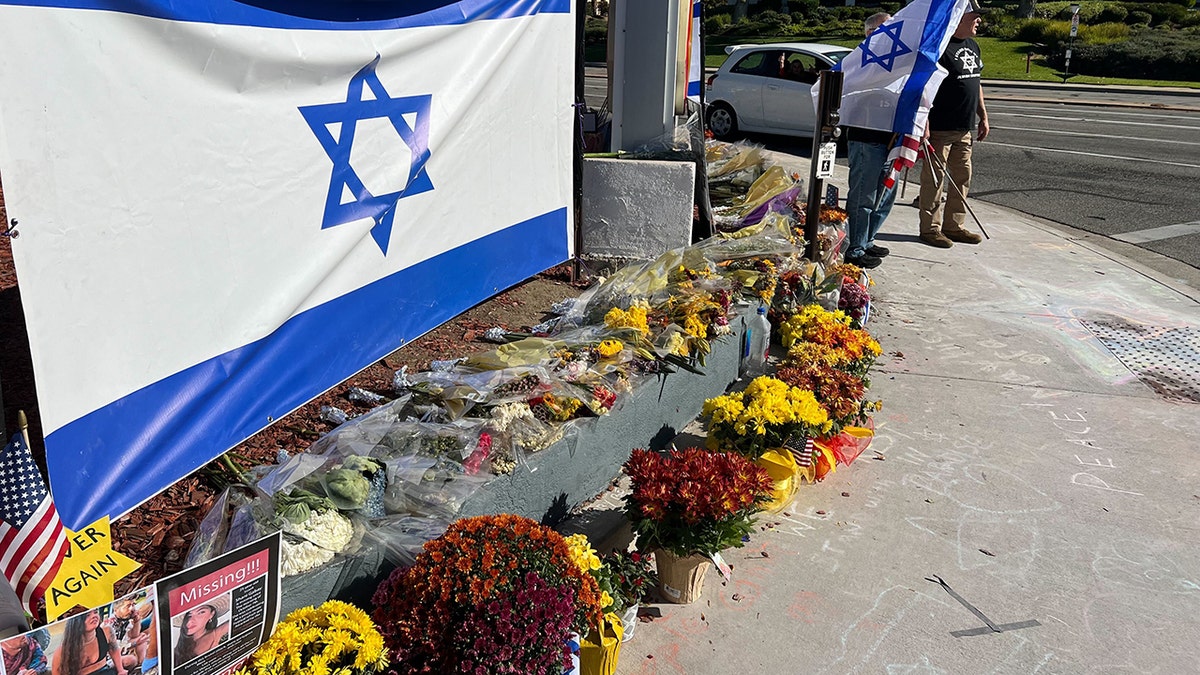 Kessler was pronounced dead at nearby Los Robles Hospital about 10 hours after the incident. Per the Ventura County Medical Examiner during a press conference Tuesday, Kessler's non-lethal injuries were noted on the left side of his face, while internal injuries included skull fractures, swelling and bruising to the brain. 
Kessler's manner of death was determined to be homicide, Medical Examiner Christopher Young said. 
JEWISH MAN'S DEATH AT CALIFORNIA RALLY COMPLICATED BY CONFLICTING WITNESS ACCOUNTS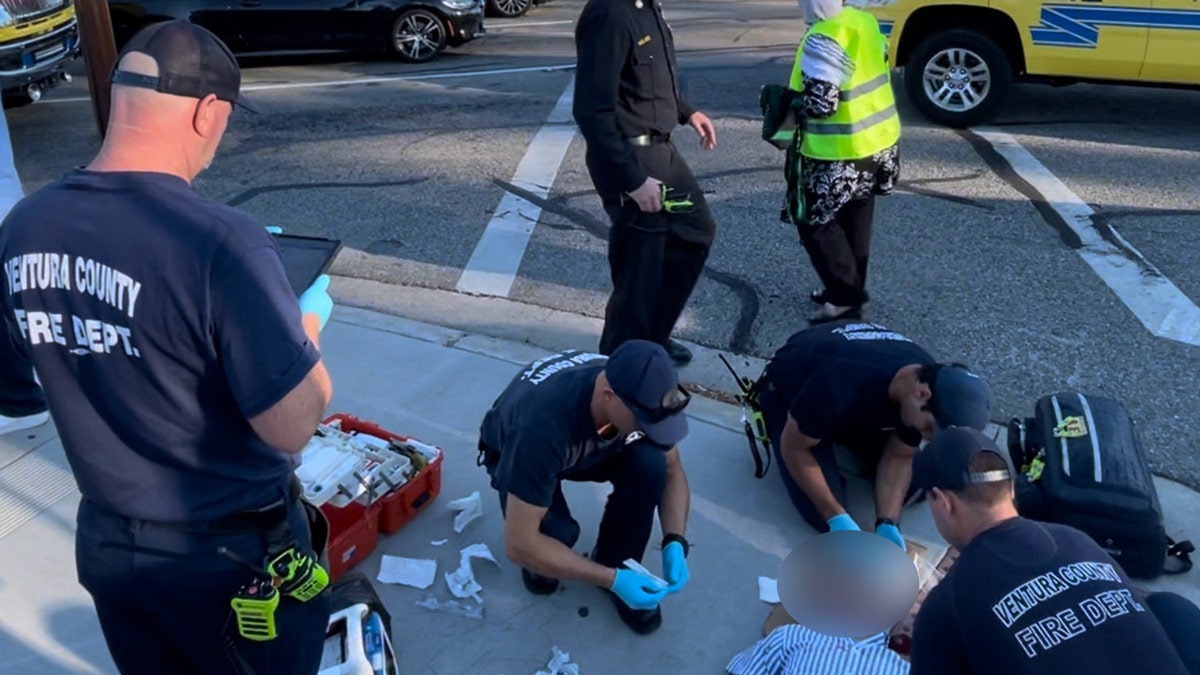 A 50-year-old pro-Palestinian protester is now a suspect in Kessler's death, the Ventura County Sheriff's Department said. An arrest has yet to be made pending further investigation of bystander and security video footage. 
On Sunday, concentric hearts drawn in a rainbow of chalk surrounded the lingering stains. Rabbis prayed with Tefilin, black leather boxes containing parchment scrolls, and invited attendees to do the same. 
JEWISH COMMUNITY IN SOUTHERN CALIFORNIA 'TERRIFIED' AFTER DEATH OF PAUL KESSLER, RABBI SAYS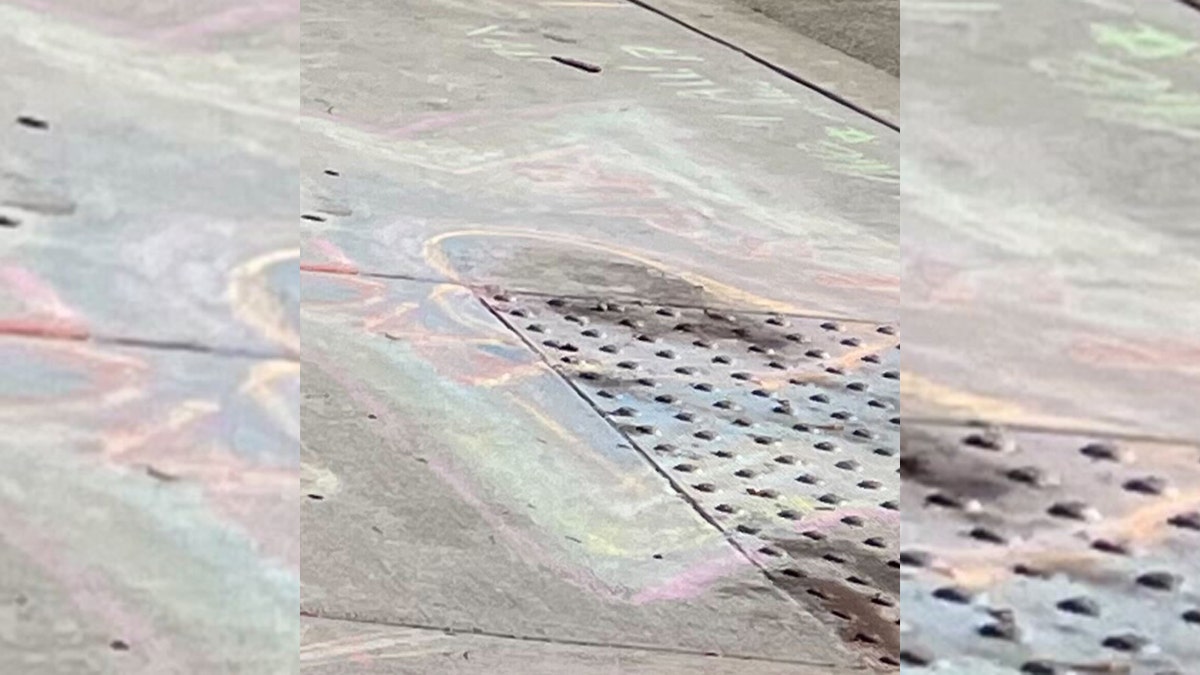 Steven Schneider, an attendee who shared footage with Fox News Digital, said the gathering was "healing" for the community. He only saw one agitator drive past during his several hours at the event.
"At the end of the day, he's a Jew and he stood with what I agree with — we agreed that we need to stand and fight in Israel," Schneider said Tuesday. 
TENS OF THOUSANDS 'MARCH FOR ISRAEL' IN WASHINGTON, DC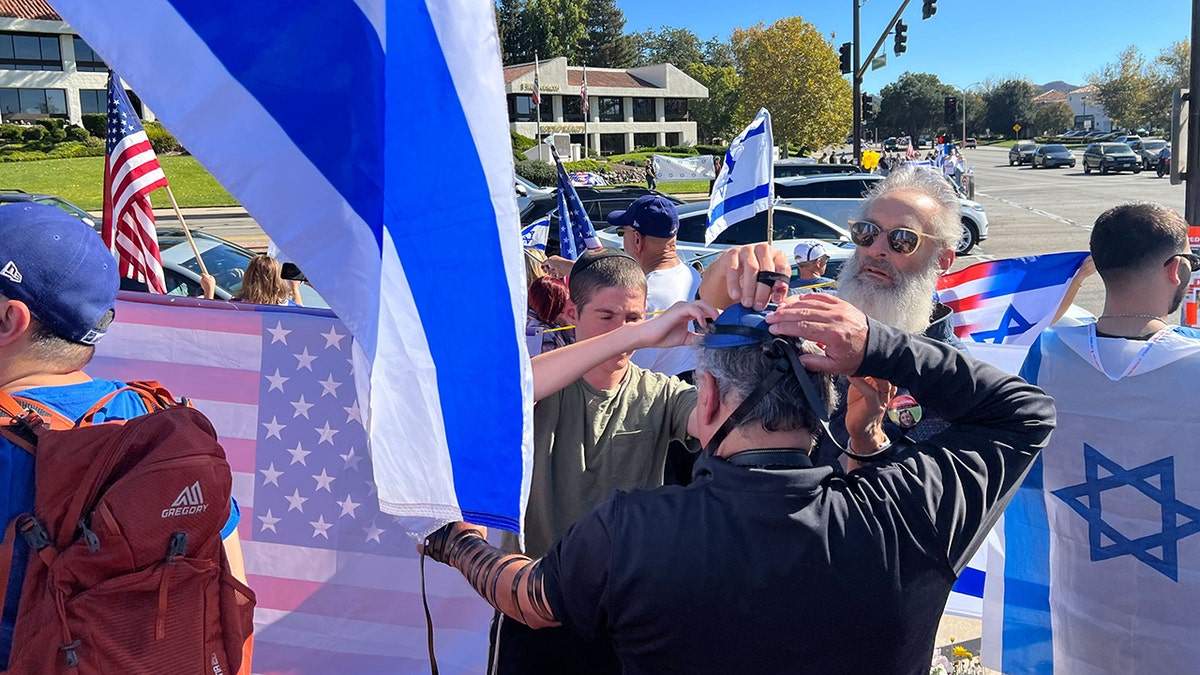 Rabbi Ari Averbach from Temple Etz Chaim — Kessler's synagogue for several years before his death — told Fox News Digital that their community held their own vigil last Wednesday. 
"We all moved here because our community is known for being so welcoming, so safe, so mixed. Now we're questioning: 'Is it safe?' 'Can we live here comfortably?'" 
MAJOR LAW FIRM TO ACCUSE ELITE UNIVERSITIES OF CIVIL RIGHTS VIOLATIONS FOR ENABLING ANTISEMITIC MOBS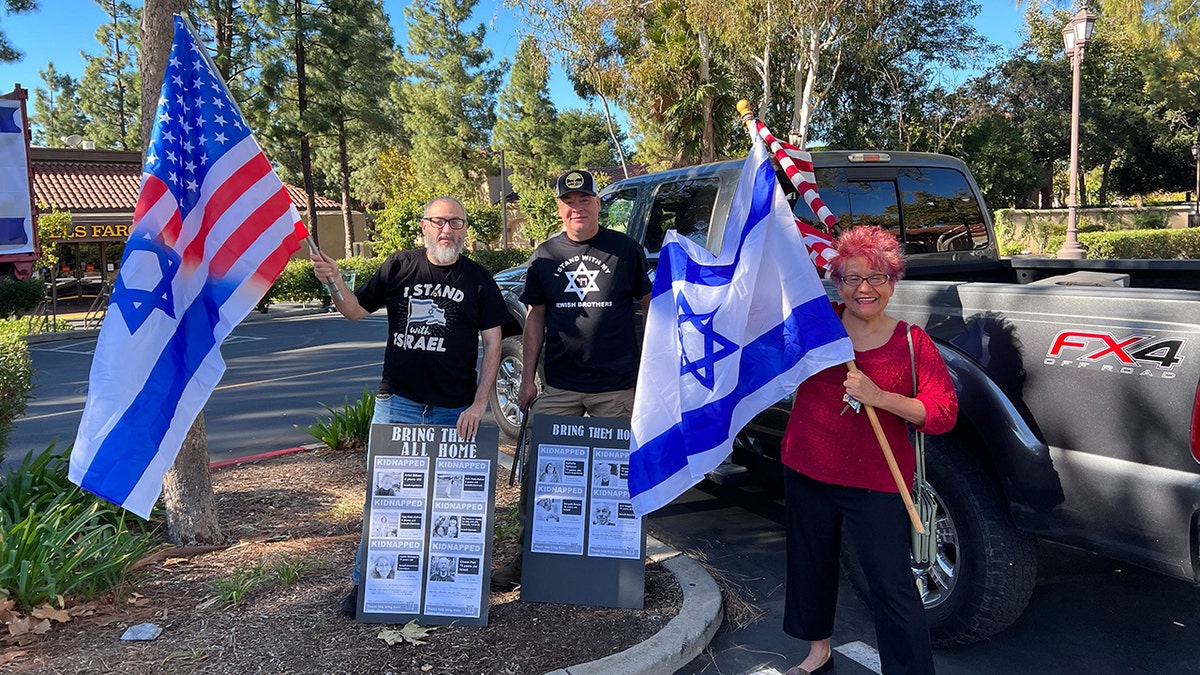 Schneider said the Jewish community in Westlake Village is "shocked to hear such [a] thing could happen" in their quiet home.
"They showed up to support Israel, they showed up to support the hostages, but they also showed up to support Paul," Schneider said.
PROFESSOR WHO PRAISED HAMAS 'RESISTANCE FIGHTERS' ON GLIDERS NO LONGER EMPLOYED BY EMORY UNIVERSITY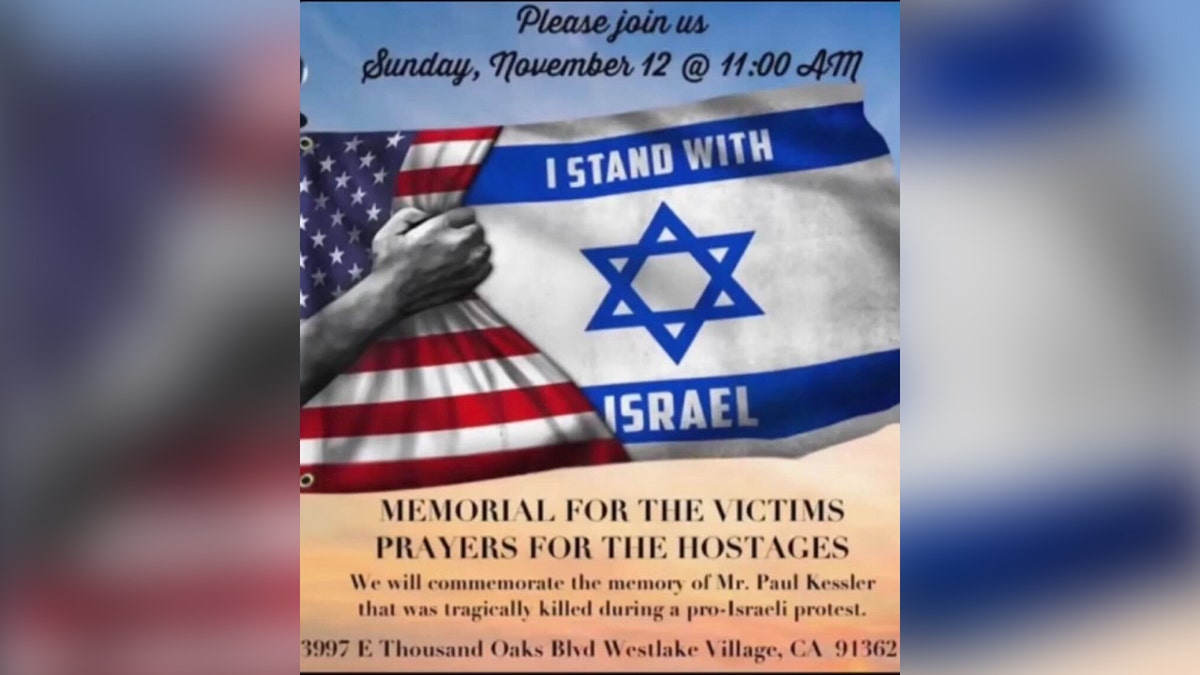 Last year, area residents banded together to protest books and videos about being transgender shown to Conejo Valley Unified School District children, as previously reported by Fox News Digital. 
"It wasn't too long when the Muslim community was with us on our schools for what they were doing to our children," Schneider, who was interviewed by Fox at the time, recalled Tuesday. 
HILLARY CLINTON CALLS FOR HAMAS' ELIMINATION, SAYS ALL BLOODSHED IN GAZA IS ON ITS HANDS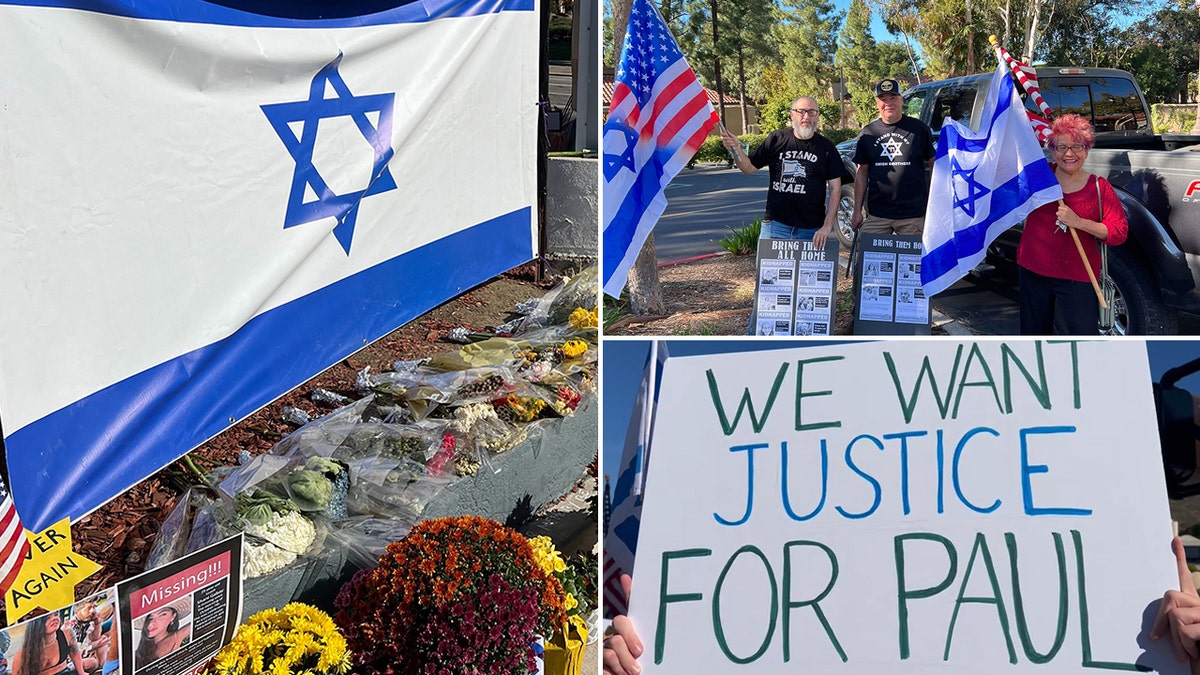 "[The Hamas-Israel conflict] puts people in a strange position — this is bigger than a school, this is bigger than what happened previously. This has to do with real hate, it has to do with the consequences of life," Schneider said. "This is dividing communities all over the United States."
Per a Tuesday interview with the Ventura County Sheriff's Department, deputies are still interviewing witnesses coming forward about the incident and reviewing a "large amount" of footage. 
CLICK HERE TO GET THE FOX NEWS APP
Schneider urged anyone with additional footage from the Nov. 5 incident to come forward and speak with police. 
"We all want justice for Paul," Schneider said. "But we have to allow [police] to do what they do. I have nothing but faith that they're going to figure things out. If there's an arrest to be made, an arrest will be made."