A Portland, Oregon, community is on edge after a homeless man attacked a resident and a growing homeless encampment encroaches on the neighborhood
"It's terrifying," Gwen Ingram, a resident living near Portland's Southeast 111th Avenue and Powell Boulevard, told Fox 12 Oregon of the encampment. 
"People scream at you, yell at you, threaten you."
Ingram told the outlet that the area was a peaceful "Leave it to Beaver"-style neighborhood until the first homeless resident showed up in a camper and the population grew so large that homeless individuals are now allegedly sleeping on private property, stealing things and breaking into homes.
OREGON REVERSING COURSE? RETAIL THEFTS COULD RESULT IN MORE JAIL TIME UNDER NEW BILL
"We never had any issues until the tents started moving in," Ingram's neighbor, Deena Closson, told the outlet, while explaining that she is scared to leave her home to get her mail.
The residents said that police have not been much help bringing a resolution to the situation.
PORTLAND MAN FEARS FOR HIS SAFETY, PROPERTY DUE TO FIRES SET BY HOMELESS SQUATTERS NEXT DOOR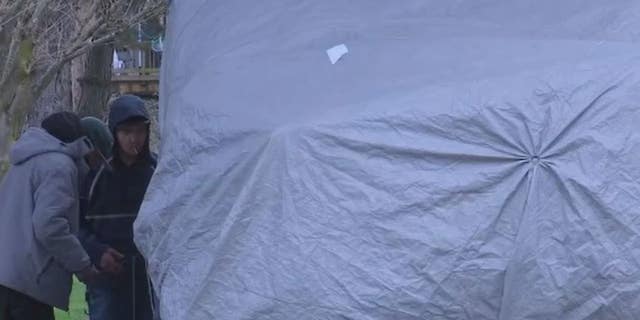 "We'd call and they'd ask, 'Do you want us to come?'" Ingram claimed. "We're like, 'Yes, we want you come to come out!' That's a stupid question."
Fellow resident Jovenn Pacheco told the outlet that he often sees homeless people overdosing on the street.
"The fire department came and literally brought this man back to life while I was holding my 6-month-old son in the window," Pacheco explained. "I said, 'That's it.' So, I called the police. They answer and say drugs are decriminalized and can't do anything."
"I live in a city where I don't feel safe," he added.
PORTLAND HOMELESSNESS CRISIS SPIRALS OUT OF CONTROL: 'THIS IS THEIR VISION OF UTOPIA'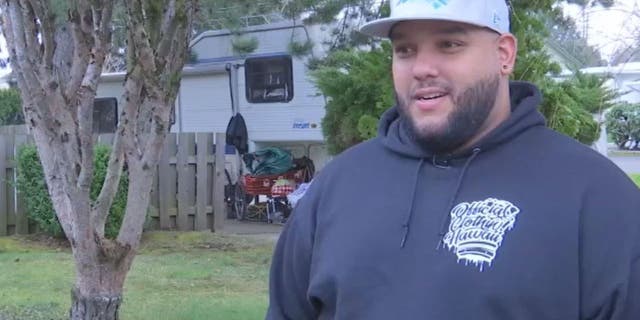 Clossen claimed one night she was awoken by a man she didn't know standing over her bed. In a panic, she sprayed the intruder with bug spray and threw a hammer at him until he fled out the front door. 
Clossen told the outlet that she will likely be "leaving the home that I love."
Ingram said the situation made her feel "absolutely helpless."
"It's a dark tunnel. No light. Absolutely helpless," Ingram said.
The residents all expressed sympathy for the plight of homeless people but said they need relief from the city to ensure their safety.
ACTIVISTS PLANT EMPTY TENTS TO ENCOURAGE HOMELESSNESS IN PORTLAND, DRUG COUNSELOR SAYS
"When is help coming?" Ingram wondered.
The Portland Police Department did not immediately respond to a request for comment from Fox News Digital.
Last month, a family in southeast Portland said that homeless squatters have been terrifying them by lighting fires that sometimes spread to their property and even caused propane tanks to ignite.
CLICK HERE TO GET THE FOX NEWS APP
"I don't know how many times I've talked to police, because people are screaming, or someone is overdosing," Jacob Adams told Fox 12 Oregon. "It's just countless, countless first responders' calls. We all have to love our neighbor no matter who they are. But at the point when they start setting your place on fire it becomes a little more difficult."
Armand Martens, an 83-year-old Vietnam veteran who also lives next to the property, told Fox 12 Oregon that he "felt safer when I was walking around in downtown Saigon when I was in Vietnam than I do here in Portland."