A pond at the Kealia Pond National Wildlife Refuge in Maui, Hawaii, has turned bright pink, prompting scientists to warn visitors to stay out of the water and avoid drinking from it while they probe what caused the mysterious change. 
Refuge staff have been monitoring the pond since the end of October and believe that drought may be the culprit. 
Lab tests recently ruled out an algae bloom, which happens when algae grows excessively, and the U.S. Fish and Wildlife Service is now looking at the organism halobacteria, which thrives in a high-salt environment. 
No one  — not even the volunteers who have been monitoring the refuge for 70 years — says they've ever seen the pond turn pink, even during past droughts.
WEBB REVEALS COLORS, FEATURES OF MOST DISTANT STAR EVER DETECTED
"I just got a report from somebody that was walking on the beach, and they called me up like, 'There's something weird going on over here,'" refuge manager Bret Wolfe told the Associated Press. 
He said the pond's current salinity level is currently 70 parts per thousand — more than twice that of seawater. 
FISHERMAN IN ALASKA REELS IN CATCH THAT'S BRIGHT BLUE ON THE INSIDE: 'PRETTY CRAZY' 
He said that Waikapu Stream hasn't fed into Kealia Pond as it normally does in a while, due to the drought, and they may have to wait for rain. 
"That might be what makes it go away," Wolfe said, noting that a lab test would have to confirm halobacteria in the water. 
He said he's seen an uptick in curious visitors gawking at pink pond.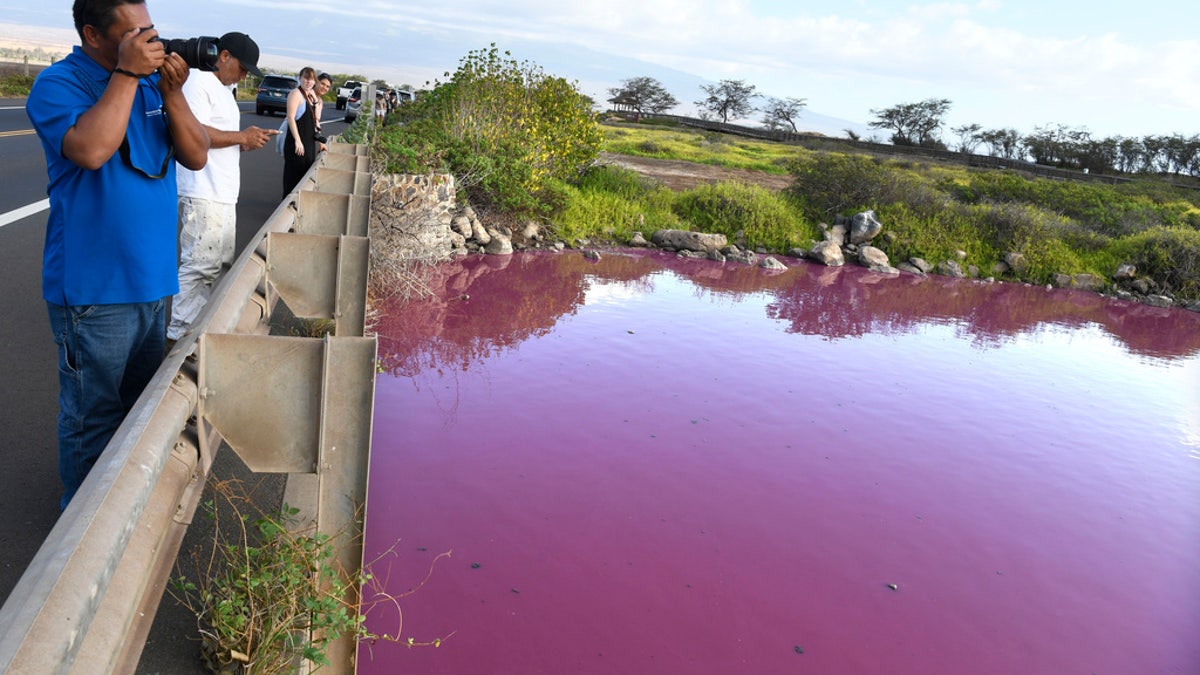 "We prefer that they come to hear about our our mission conserving native and endangered waterbirds and our wetland restorations, but no, they're here to see the pink water," he laughed. "If that's what gets them there, it's OK. It is neat."
Among the birds who call the refuge their home are the endangered Hawaiian stilt and the Hawaiian coot. Wolfe said the water doesn't seem to be affecting the birds. 
CLICK HERE TO GET THE FOX NEWS APP
"We will be continuing to gather information and will keep the public informed," said the USFWS said. "As a precautionary measure, we recommend that people keep a safe distance and not enter the water, don't consume any fish from the water, and ensure that pets don't drink the water."
The Associated Press contributed to this report.