A man convicted of killing a couple in Florida in 1989 is scheduled to be executed next month after Republican Gov. Ron DeSantis signed a death warrant on Monday.
Louis Bernard Gaskin, now 56, was convicted of first-degree murder for killing Robert and Georgette Sturmfels on Dec. 20, 1989, in their home in Flagler County. He was also convicted of armed robbery, burglary and attempting to murder another couple who resided nearby that same night.
Dubbed the "ninja killer" for wearing all-black ninja clothing during his crimes, Gaskin shot his victims with a .22-caliber rifle. Items he stole from the Sturmfels' home — a clock, two lamps and a videocassette recorder — were found at his residence. He intended to give the items to his girlfriend for Christmas.
Gaskin confessed to the crimes and told a psychologist ahead of his trial that he was aware of what he was doing.
FLORIDA FATHER ARRESTED FOR ALLEGEDLY SHOOTING AT NAKED ROOMMATE WHO GOT IN BED WITH TEENAGE DAUGHTER: POLICE
"The guilt was always there," Gaskin said at the time. "The devil had more of a hold than God did. I knew that I was wrong. I wasn't insane."
In 1990, jurors voted 8-4 to recommend the death sentence, a sentence the judge accepted. 
Under Florida's current law, a unanimous jury vote is required for capital punishment. However, the state Legislature is considering lowering the threshold.
FLORIDA DEMOCRAT FORGETS THE PLEDGE OF ALLEGIANCE AT FIRST PUBLIC MEETING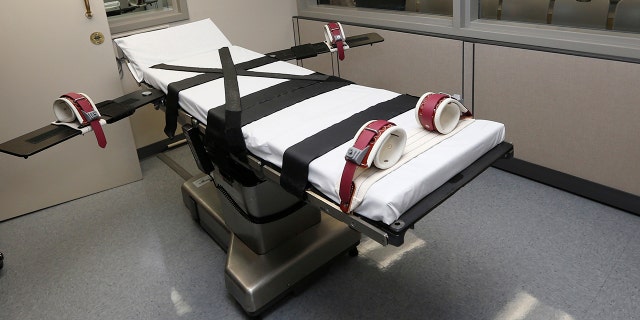 Gaskin has filed numerous appeals since his sentencing, but by 2020 the Florida Supreme Court and U.S. Supreme Court had created a path for his death warrant to be signed, Attorney General Ashley Moody said in court documents.
The execution is scheduled for April 12 at 6 p.m., according to DeSantis' office. This would be the second execution in Florida this year after a pause on capital punishment dating back to 2019 was resumed. 
CLICK HERE TO GET THE FOX NEWS APP
Gaskin's execution would be just the fourth under DeSantis, a much slower rate than was the case with other recent Florida governors.
The state Supreme Court's briefing schedule states that all filings in any new Gaskin appeals must be completed by March 31.
The Associated Press contributed to this report