A two-vehicle crash in Long Beach, California, split one car in half and claimed the life of a pedestrian, police said. 
The Long Beach Police Department responded to the scene of the horrific crash on the Pacific Coast Highway (PCH) near Martin Luther King Jr. Boulevard around 5:50 p.m. Monday, FOX 11 Los Angeles reported. 
At the scene, officers found an injured man who had been struck while waiting on the sidewalk for a bus, per the outlet. 
CALIFORNIA WOMAN, 27, FOUND DEAD IN LAGUNA BEACH ALLEY STEPS FROM WORK: REPORT
The man, later identified as 50-year-old Long Beach resident Carlos Ceron, was pronounced dead by paramedics at the scene a short time later. 
Footage from the scene showed that a bus bench was ripped from the ground in the crash, per KNX News 97.1 FM.
JEWISH GROUP IN CALIFORNIA HOLDS PROTEST CALLING FOR CEASE-FIRE IN ISRAEL-HAMAS WAR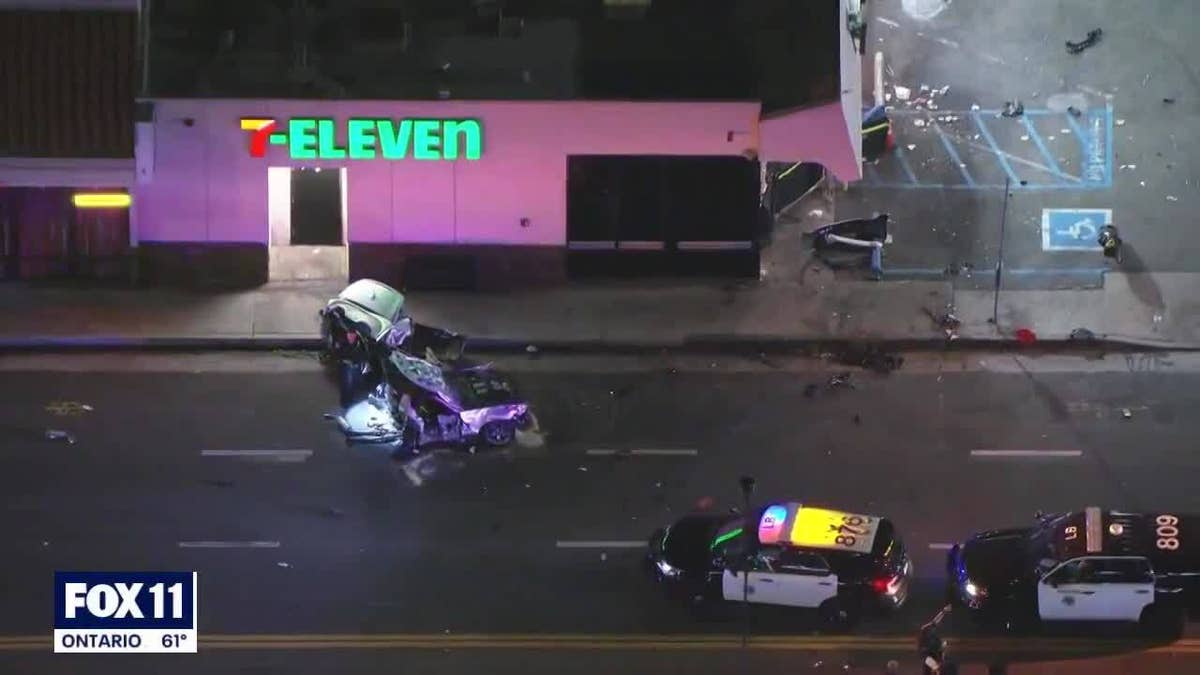 ONE IN SIX TEENS ADMITS DROWSY DRIVING, SURVEY FINDS: IT'S 'IMPAIRED DRIVING, UNEQUIVOCALLY'
A preliminary investigation, per a police statement obtained by KNX News, revealed that a 20-year-old man driving a 2010 Nissan 350Z was traveling at a "high rate of speed" eastbound on the PCH. 
A 50-year-old woman driving a 2017 Jeep Cherokee Westbound on the highway reportedly made a left turn onto Martin Luther Kind Avenue in front of the man's Nissan. 
CLICK HERE TO GET THE FOX NEWS APP
"The Nissan collided with the Jeep and then struck a traffic signal pole," police wrote.
The driver of the Nissan was immediately hospitalized, police said. The Jeep driver refused medical attention.
Speed was a factor in the crash, and it does not appear that impairment was involved, police told FOX 11.