Bishops in the Church of England are slated to uphold the institution's formal teaching that marriage is between one man and one woman during their general synod in London next month.
Bishops instead will offer proposals that urge "prayers of dedication, thanksgiving or for God's blessing" on same-sex couples and offer an apology for the "rejection, exclusion and hostility" LGBTQI+ people have faced in the Church of England, according to a Wednesday press release.
The proposals, which will be presented to the general synod following a six-year consultation period, include "a range of draft prayers" that clergy can voluntarily use to bless same-sex couples "who have marked a significant stage of their relationship such as a civil marriage or civil partnership," according to the release.
FIRST 'GENDER-QUEER' PRIEST IN CHURCH OF ENGLAND EXPRESSES DESIRE FOR 'NORMALIZING' IDENTITY AMONG CHILDREN
Such proposals "offer the fullest possible pastoral provision without changing the Church's doctrine of Holy Matrimony for same-sex couples," the release explained.
The bishops will also issue a letter of apology to LGBTQI+ people that emphasizes the disagreements among leaders in the worldwide Anglican Communion over homosexuality.
Archbishop of Canterbury Justin Welby said in a statement that the proposal "reflects the diversity of views in the Church of England on questions of sexuality."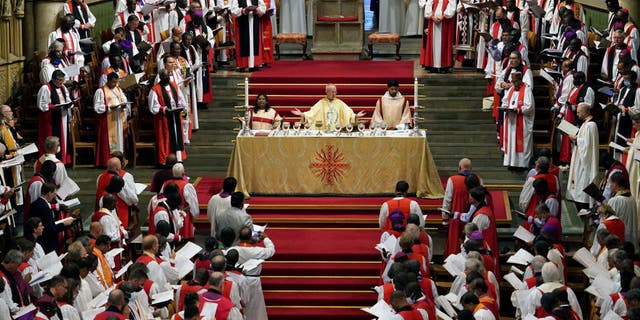 "I am under no illusions that what we are proposing today will appear to go too far for some and not nearly far enough for others, but it is my hope that what we have agreed will be received in a spirit of generosity, seeking the common good," Welby said.
CONSERVATIVE ANGLICANS WARN CHURCH OF ENGLAND IS CRATERING IN ATTEMPT TO STAY RELEVANT: 'THE CHURCH IS DYING'
"Most of all I hope it can offer a way for the Church of England, publicly and unequivocally, to say to all Christians and especially LGBTQI+ people that you are welcome and a valued and precious part of the body of Christ," the church's top cleric added.
The proposals come after multiple bishops in England's established church have publicly urged the institution in recent months to begin conducting same-sex weddings, including the high-ranking Bishop of Oxford Steven Croft.
UK SCHOOL CHAPLAIN SUES AFTER BEING FIRED, REPORTED AS TERRORIST FOR SERMON QUESTIONING LGBTQ ACTIVISTS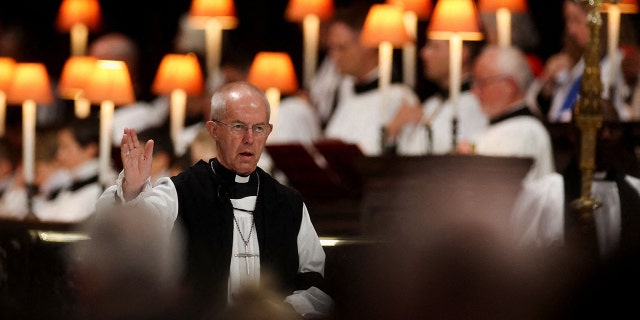 Charlie Bell, a gay Anglican priest who spoke to the BBC, expressed "deep disappointment" that same-sex marriage would not be put to a vote during the general synod as was originally thought, and predicted the proposals from the bishops will not end the battles within the Church of England over the issue.
CLICK HERE TO GET THE FOX NEWS APP
"This isn't over," Bell told the outlet. "If the bishops think this will resolve the current situation they are very much mistaken."