Police in Baltimore, Maryland. say that five men were injured Friday after being shot.
Officials say that the shooting happened near Lexington Market around 3:30 p.m., according to FOX 45.
Baltimore City Police Commissioner Michael Harrison said during a press conference that multiple rounds of bullets were fired in the shooting.
Police said that there was one intended target in the shooting.
FLORIDA TEENAGER ARRESTED AFTER ALLEGEDLY SHOOTING INTO CROWD OUTSIDE INDOOR AMUSEMENT PARK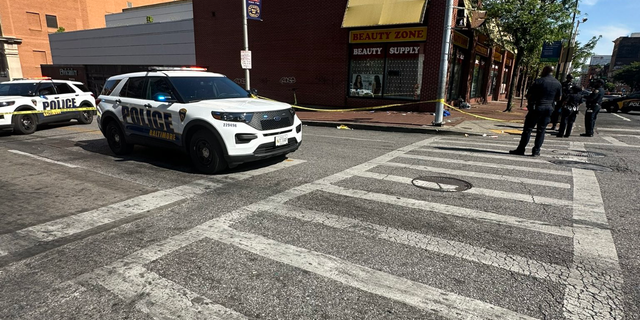 According to WBAL, the suspect hasn't yet been arrested.
MACHETE-WIELDING NYC PROFESSOR CHASES DOWN FAST FOOD AFTER ARRAIGNMENT FOR MENACING REPORTER
Harrison said that the victims range in age from 38 to mid-60s, stating that all of their injuries are non-life threatening.
CLICK HERE TO GET THE FOX NEWS APP
Police are investigating the incident.