A 2-year-old Florida girl is recovering after relatives pulled her from the family's pool and started CPR with the guidance of a 911 supervisor until a deputy and rescue crew arrived at the scene.
Deputies and Volusia County Fire Rescue responded to the home in DeLeon Springs after a frantic 911 call around 4:48 p.m. Sunday. It was learned the 2-year-old girl was found face-down in the above-ground pool while a family member was watching several children for their mother.
A family member jumped in the pool, pulled the toddler out and immediately called 911 when she admitted no one on the scene had CPR training.
"While sending units to the scene, Telecommunicator Supervisor Thomas Eggers began giving CPR instructions over the phone," Volusia Sheriff's Office said in a press release.  
FLORIDA INMATE NICKNAMED 'NINJA KILLER' SET TO BE EXECUTED FOR 1989 DOUBLE HOMICIDE
911 dispatcher: "OK, I want you to turn the baby over and see if there is any water. We want to drain the water out."
Caller: "She's on her side right now."
911 dispatcher: "OK. Put the baby flat on her back on a hard surface. I want you to take one hand and place it on the center of her chest … and to press to a depth of one inch, OK? We're going to do 30 compressions."
Caller: "OK"
911 dispatcher: "Go ahead and count with me, 1, 2 … I want this rhythm. 1, 2, 3, 4, 5, 6 …"
FLORIDA MAN ACCUSED OF SECRETLY RECORDING MEN WITH SPY CAM IN THE RESTROOM AT 'WE SPY COFFEE & MORE' CAFE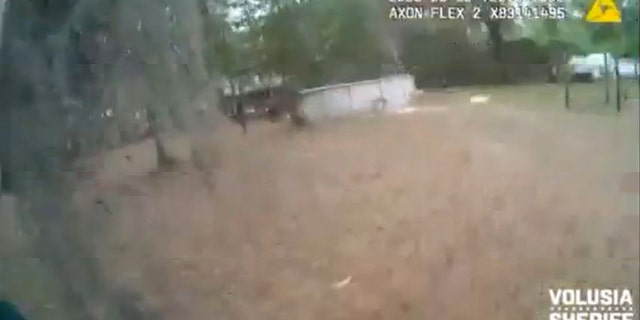 When the first unit arrived on scene, Deputy Kaelin Darcy took over CPR, then picked up the child and ran her to a Fire Rescue crew that arrived moments later. Soon, the child was responsive and crying. She was taken to a hospital in serious condition for further treatment. 
As of Monday, the child remained hospitalized but was reported doing well and showing promising signs of making a full recovery.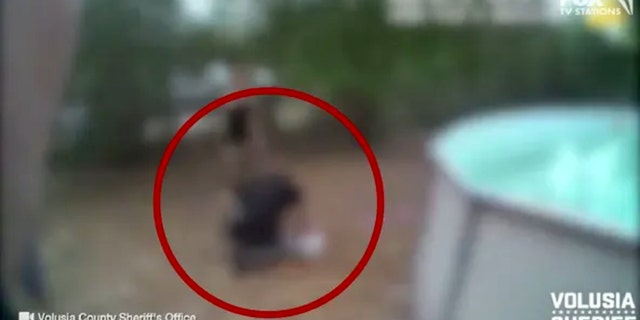 CLICK HERE TO GET THE FOX NEWS APP
The state Department of Children and Families was notified of the incident, and an investigation into the circumstances is ongoing. 
The above-ground pool was filled with about 4 feet of water with a small inflatable ball floating on the surface and a ladder attached.