Two of the six suspects charged with domestic terrorism after an anti-police protest turned violent in downtown Atlanta on Saturday night have been granted bond, according to local reports.
Both Ivan Ferguson, 23, of Nevada, and 20-year-old Graham Evatt of Decatur, Georgia, were given bond at $355,000 on Monday, FOX5 Atlanta reported. Evatt was the only suspect arrested who was from Georgia.
The four other suspects who were denied bond were Nadja Geier, 24, of Nashville, Tennessee; Madeleine Feola, 22, of Spokane, Washington; Francis Carrol, 22, of Kennebunkport, Maine; and Emily Murphy, 37, of Grosse Isle, Michigan.
Protests erupted Saturday in response to the death of 26-year-old environmental activist Manuel Esteban Paez Teran. 
ATLANTA ANTI-POLICE RIOTS HURT DOWNTOWN BUSINESSES, WORKERS' WALLETS, EMPLOYEES SAY
Teran was shot and killed by Georgia State Patrol after authorities said Teran shot and wounded a state trooper who was trying to clear protesters from the construction site of a new public safety training center dubbed by activists as "Cop City."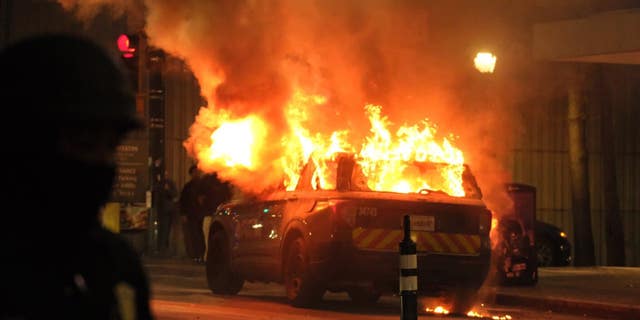 In the protest following Teran's death, masked activists dressed in all black threw rocks and lit fireworks in front of a skyscraper that houses the Atlanta Police Foundation, shattering large glass windows. They then lit a police cruiser on fire, smashed more windows and vandalized walls with anti-police graffiti as stunned tourists scattered.
ATLANTA DOMESTIC TERRORISM SUSPECTS SEEN SMILING OR STONE-FACED IN ANTI-POLICE RIOT BOOKING PHOTOS
Caution tape was also wrapped around several buildings, including a Wells Fargo location that suffered several broken windows, photos at the scene showed.
The six suspects arrested all face eight misdemeanor and felony charges.
The misdemeanor charges include pedestrian in a roadway, willful obstruction of a law enforcement officer, riot, and unlawful assembly. The felony counts include second-degree criminal damage, first-degree arson, interference with government property and domestic terrorism.
Fox News' Danielle Wallace and the Associated Press contributed to this report.