Steve Irwin, known as The Crocodile Hunter, had an unmatched passion for wildlife and spent his life sharing his wealth of knowledge with viewers around the world. Irwin was internationally recognized, tirelessly worked to better the Australia Zoo and hosted the popular television program, "The Crocodile Hunter." 
Irwin's dedication to wildlife often put him in harms way. In 2006, he faced an untimely death when he approached a stingray too closely, which ultimately took his life.
Audiences around the globe continue to remember Irwin, largely due to his legacy, but also, because his children, Bindi and Robert Irwin, are following in his footsteps and sparking national conversation about their passion for animals, too.
BINDI IRWIN FACED 'HELLISH' HEALTH BATTLE, BROTHER ROBERT SAID 'WAS GOING DOWNHILL FAST' 
Early life of Steve Irwin
Irwin was born on Feb. 22, 1962 in Upper Ferntree Gully, Victoria, Australia, to parents, Bob and Lyn Irwin.
He grew up surrounded by wildlife. His parents were founders of Beerwah Reptile Park, established in 1970, which would later be renamed the Australia Zoo. Irwin grew up assisting his parents run the zoo, which started out as a two-acre wildlife park and is now 700 acres.
About 10 years after its initial opening, the park largely expanded, spanning over four acres. At this point, it was renamed Queensland Reptile and Fauna Park.
Growing up, Irwin had a deep love for crocodiles and spent many years of his life catching "problem crocodiles" for the Queensland government.
Irwin took over the wildlife park in 1991 and met his future wife, Terri Raines, shortly after. Following the retirement of Irwin's parents in the 1990s, their son renamed the park again. Today, it is still titled the Australia Zoo and works to conserve the efforts Irwin gave to it for many years as he both worked and owned it.
ROBERT IRWIN ON HOW HIS PHOTOGRAPHY BOOK KEEPS LATE FATHER STEVE IRWIN'S LEGACY ALIVE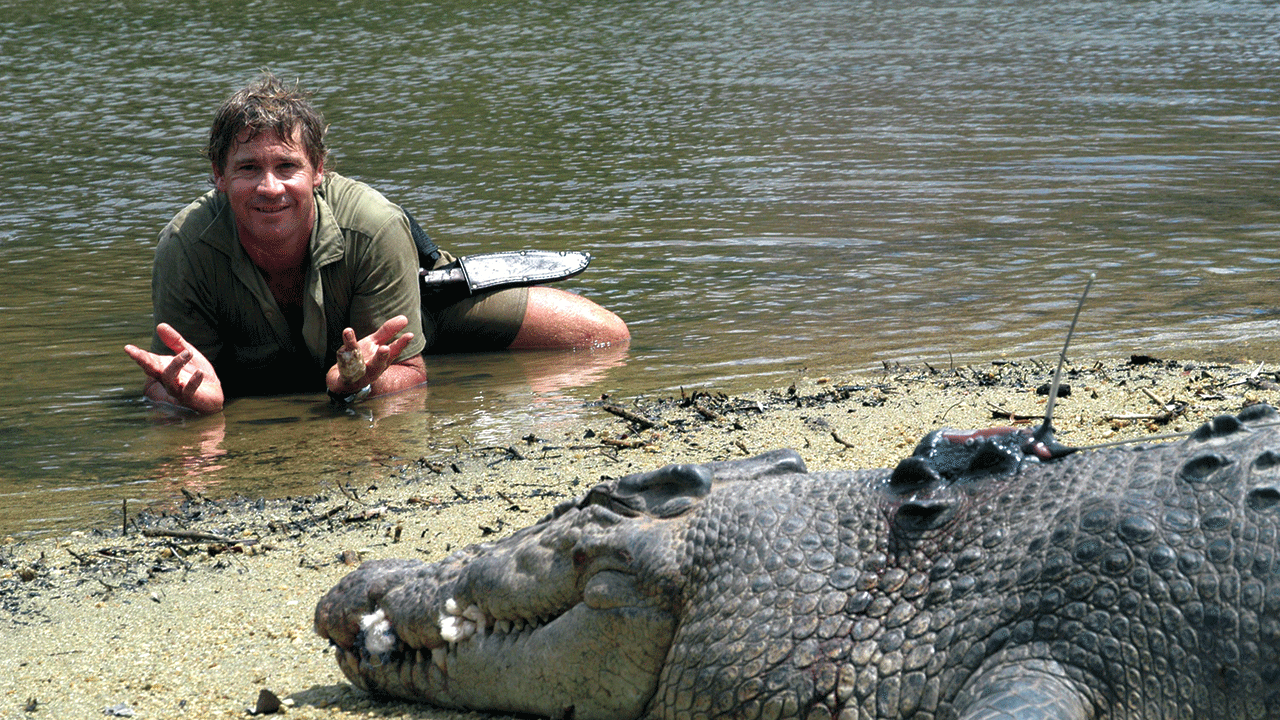 Crikey! It's "The Crocodile Hunter"
Irwin rose to fame when his hit show, "The Crocodile Hunter," debuted in 1996 on cable television. He frequently used the popular catchphrase, "crikey" during segments.
"The Crocodile Hunter" was a show featuring Irwin and his wife. Irwin met his wife while she was vacationing in Australia away from her home in Oregon.
Irwin and his bride did not have a traditional honeymoon. Instead, they embarked on what would be the start of their international fame. Following their nuptials, the couple began filming a documentary about their journey locating a crocodile in Queensland. The documentary was so popular, it kicked off the launch of "The Crocodile Hunter" series.
Fear-envoking moments of Irwin and his team encountering dangerous wildlife were caught on camera for the series. He used his international platform to enthusiastically and passionately educate viewers around the world. Irwin was not afraid to get up close and personal with dangerous creatures, which often put him in harms way. Once, in 1991, Irwin was bitten on the face by a python, and in 1999, he came face to face with a Komodo dragon in an episode titled "Steve and the Dragon."
The untimely death of Irwin
Irwin passed away on Sept. 4, 2006. He was just 44 years old when he died in Australia.
On the day of his death, Irwin and his close friend and cameraman, Justin Lyons, were on the Great Barrier Reef, filming a series called "Ocean's Deadliest."
While snorkeling for the shoot, Irwin came too close to a massive stingray who stung him many times, including in the heart. The stings caused Irwin terrible trauma to his body, and he was rushed to the hospital before medical personnel pronounced him dead.
Lyons, an individual Irwin referred to as his "best mate" and "right-hand man," shared details of Irwin's last moments during a 2014 interview with "Studio 10," an Australian morning show. 
Lyons told viewers the original goal for the day was to find tiger sharks. While in shallow water, the pair spotted a large stingray. They hoped to snap a shot of the sea creature for a different project. During the interview, Lyons expressed that stingrays are "normally very calm."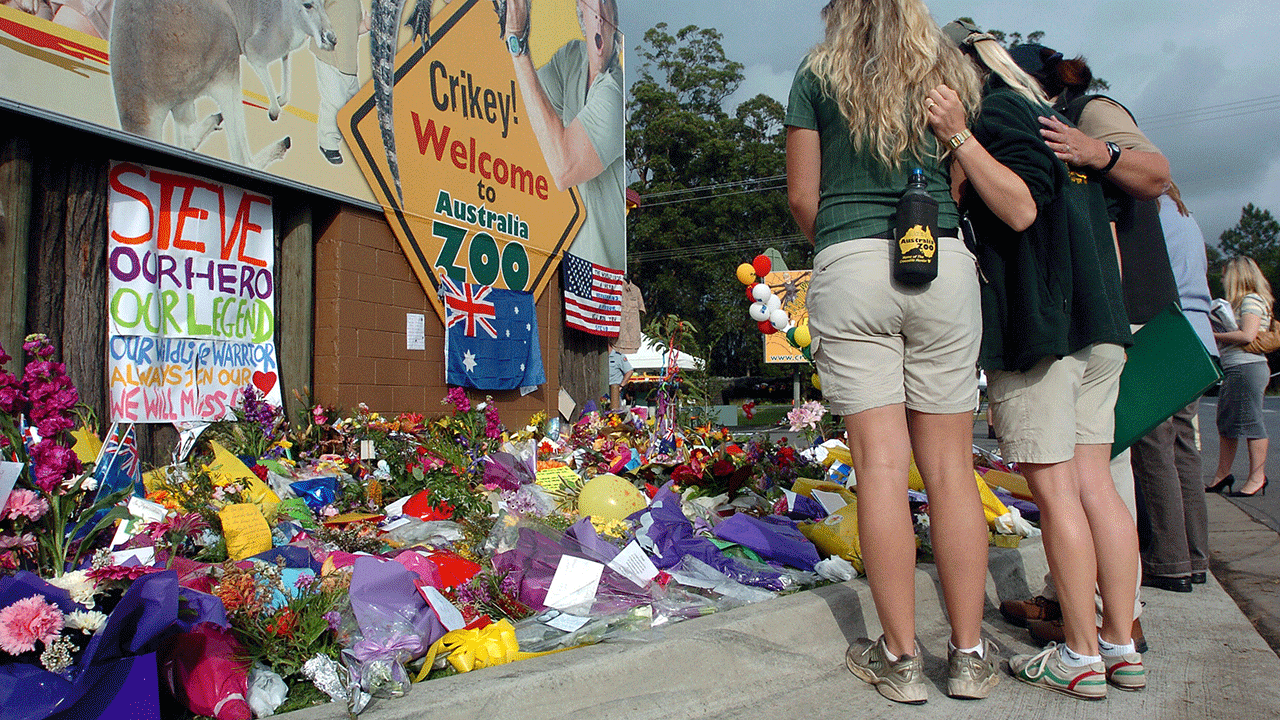 BINDI IRWIN REVEALS WHY SHE KEPT HER FATHER'S LAST NAME AFTER GETTING MARRIED
"I had the camera on, I thought, 'This is going to be a great shot' … and all of a sudden [the ray] propped on its front and started stabbing wildly with its tail, hundreds of strikes in a few seconds," Lyons said. He explained that the stringray likely thought Irwin's shadow was a tiger shark, a predator of stingrays. "I panned with the camera as the stingray swam away, and I didn't know it had caused any damage. It wasn't until I panned the camera back that Steve was standing in a huge pool of blood that I realized something had gone wrong."
Lyons added, "We're saying to him things like, 'Think of your kids, Steve, hang on, hang on, hang on.' And he just sort of calmly looked up at me and said, 'I'm dying,' and that was the last thing he said."
The legacy of a legend
Irwin and his wife shared two children together, Bindi and Robert. At the time of their father's death, both children were very young. Bindi was 8 years old, and Robert was just 2.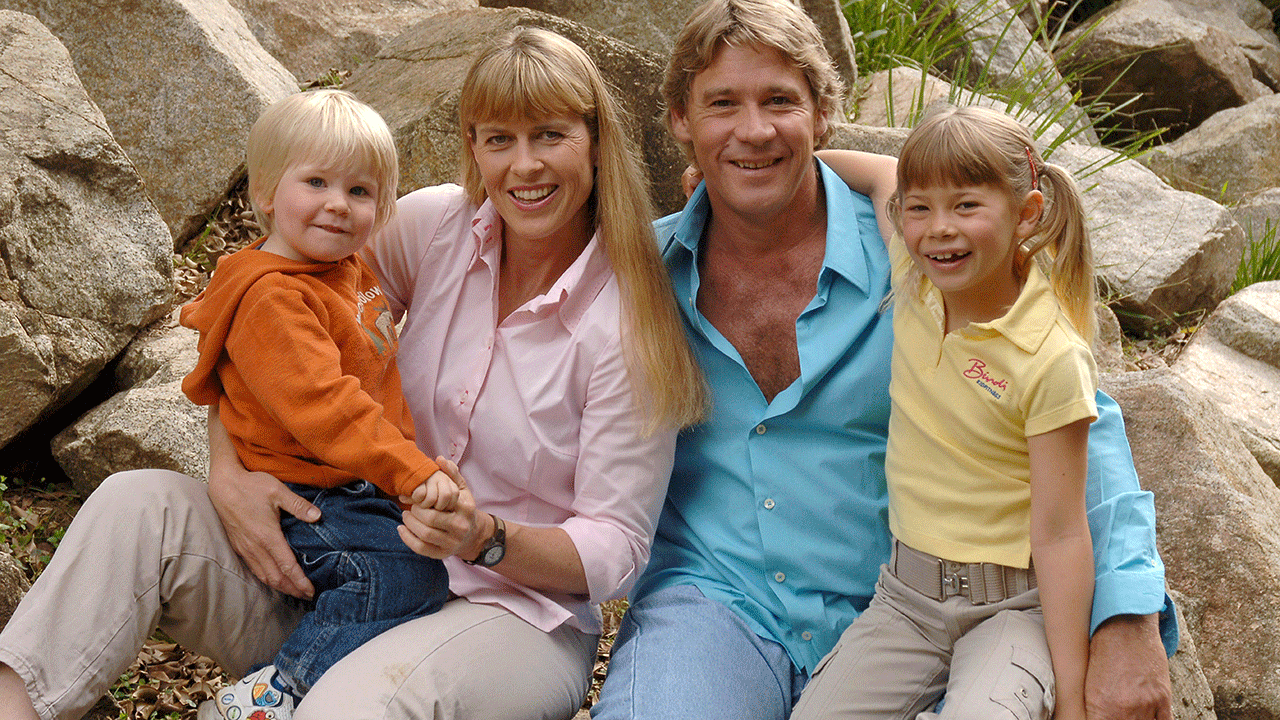 CLICK HERE TO GET THE FOX NEWS APP 
Both Bindi and Robert share their late father's passion for wildlife. After first appearing on "The Crocodile Hunter," Bindi also starred in her own television show "Bindi: The Jungle Girl." She has continued working at the Australia Zoo as well as the non-profit charity, Wildlife Warriors, which was established by her parents in 2002.
Bindi recently married Chandler Powell. The pair wed at Australia Zoo in 2020. In March 2021, they welcomed a baby girl, Grace Warrior Irwin Powell.
Robert has also continued to share his passion for wildlife with the world. At the Australia Zoo, he hosts the "Wildlife Warrior's Show," where he interacts with and educates guests about crocodiles. Robert also attends Australia's annual crocodile research trip, according to the zoo's website. 
Irwin's son has a love for photography and frequently posts the latest pictures from his adventures to his Instagram account, which has amassed over four million followers.
In 2018, the Irwin family teamed up on the big screen once again for the show "Crikey! It's the Irwins" which aired for four seasons.