New York City Mayor Eric Adam's plan to move several hundred illegal migrants to hotels in Orange and Rockland Counties, New York, began Thursday in a move that busses asylum seekers past a sanctuary county to areas that have fiercely resisted the plan.
County and local leaders in Orange and Rockland Counties have pushed back against the Adams plan to send over 300 migrants to the Armani Inn & Suites hotel in Orangeburg in Rockland and The Crossroads Hotel in Newburgh in Orange, the latter of which saw migrants arrive on Thursday.
Supporters were seen outside The Crossroads holding signs welcoming them. Orange County Legislator Kevindaryán Luján said outside the hotel that 20 to 30 people had arrived in the first busload and that about 60 were expected there Thursday, all males.
"We stand in full solidarity with the asylum seekers," he said.
COURT ORDER BLOCKS NYC PLAN TO MOVE MIGRANTS UPSTATE AFTER CITY AND COUNTY OFFICIALS FIGHT BACK
Orange County's neighbor, Rockland County, successfully obtained a temporary restraining order from a state Supreme Court judge on Tuesday after arguing that the move violated local zoning regulations.
As the battle rages on over where to house the migrants who have taxed New York City's facilities to the breaking point, Adams has argued that the rest of the state must step in to help alleviate the burden faced by its largest city.
"New York City has cared for more than 61,000 migrants — sheltering, feeding, and caring for them, and we have done so largely without incident," the spokesperson told Fox News Digital earlier this week. "We need the federal government to step up, but until they do, we need other elected officials around the state and country to do their part and emulate the humane and compassionate approach New York City has taken over the past year."
But the plan to bus over 300 people to Rockland County from New York City would take the migrants right past nearby Westchester County, which in 2018 passed legislation to prohibit the use of any of its resources to assist federal law enforcement investigations based on of a person's national origin.
The legislation, called the Immigrant Protection Act, was not designed to be a "sanctuary" law, Westchester County Executive George Latimer argued at the time, despite the measure facing pushback from U.S. Immigration and Customs Enforcement.
NEW YORK POL DEPLOYS POLICE TO BLOCK MIGRANT BUSES, THREATENS TO GRAB NYC MAYOR 'BY THE THROAT'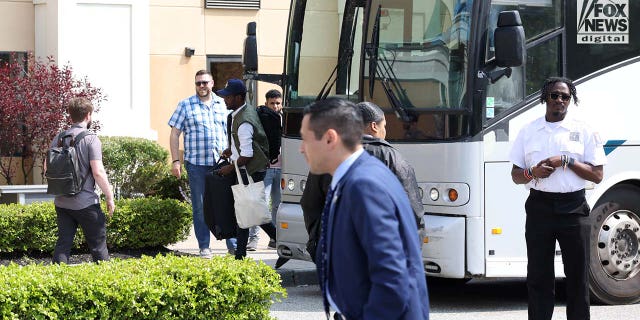 Buses did begin arriving Thursday in nearby Newburgh, New York, which is situated in Orange County and just north of Rockland and Westchester Counties. Those migrants will be housed at the Crossroads Hotel, where migrants were greeted by supporters holding signs as the bus pulled up. 
"We are here as supporters of human dignity and want to make sure that the people coming here know that there are people in Orange County, the city of Newburgh, town of Newburgh and beyond that have their back, who are supportive and that want to welcome them," Luján said from outside the hotel, according to a report from the Times Union.
Meanwhile, Rockland County Executive Ed Day had heated remarks for the New York City Mayor, going as far as to threaten to "grab" Adams "by the throat."
"[Adams] never asked for an opinion, he just said, 'Screw you, Rockland County,'" Day said during a radio interview earlier this week. "Well, here is my response . . . Mr. Adams, you can try to run us over, [and] I will reach up and grab you by the throat for the people of Rockland County."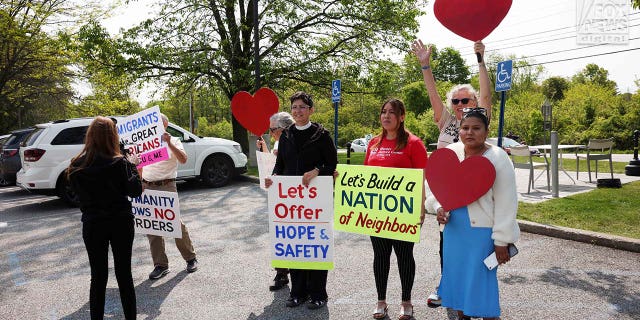 Adams' office did not immediately respond to a Fox News request for comment.