Israeli President Isaac Herzog addressed tens of thousands at the "March for Israel" protest at the National Mall in Washington, D.C., on Tuesday and called for the release of all hostages held by Hamas.
In an echo of Moses' words in the Bible to the hardhearted pharaoh who held ancient Israelis captive in Egypt, Herzog demanded Hamas "let our people go." 
"Since Oct. 7, Israeli society and the Jewish people have truly come together in unison. We feel our hearts beat as one. We hear our brothers' and sisters' blood calling out to us from the ground," Herzog said in Jerusalem, broadcasting a video feed of his speech to the rally in the U.S. capital. 
"Once again in Jewish history, we demand, let our people go!" he said. 
TENS OF THOUSANDS 'MARCH FOR ISRAEL' IN WASHINGTON, DC
There remain up to 238 hostages held by Hamas in Gaza, and 10 of them are believed to be Americans, although U.S. officials are unsure how many are still alive. The number provided by the Israeli government is a count of those who are confirmed missing, national security adviser Jake Sullivan said Sunday on ABC's "This Week." 
"As far as Americans are concerned, there are nine missing American citizens as well as a missing legal permanent resident – a green card holder," Sullivan said.
VIOLENT INCIDENTS OVER ISRAEL-HAMAS WAR AT TOP CANADIAN COLLEGE LEADS TO ARREST, POLICE INVESTIGATION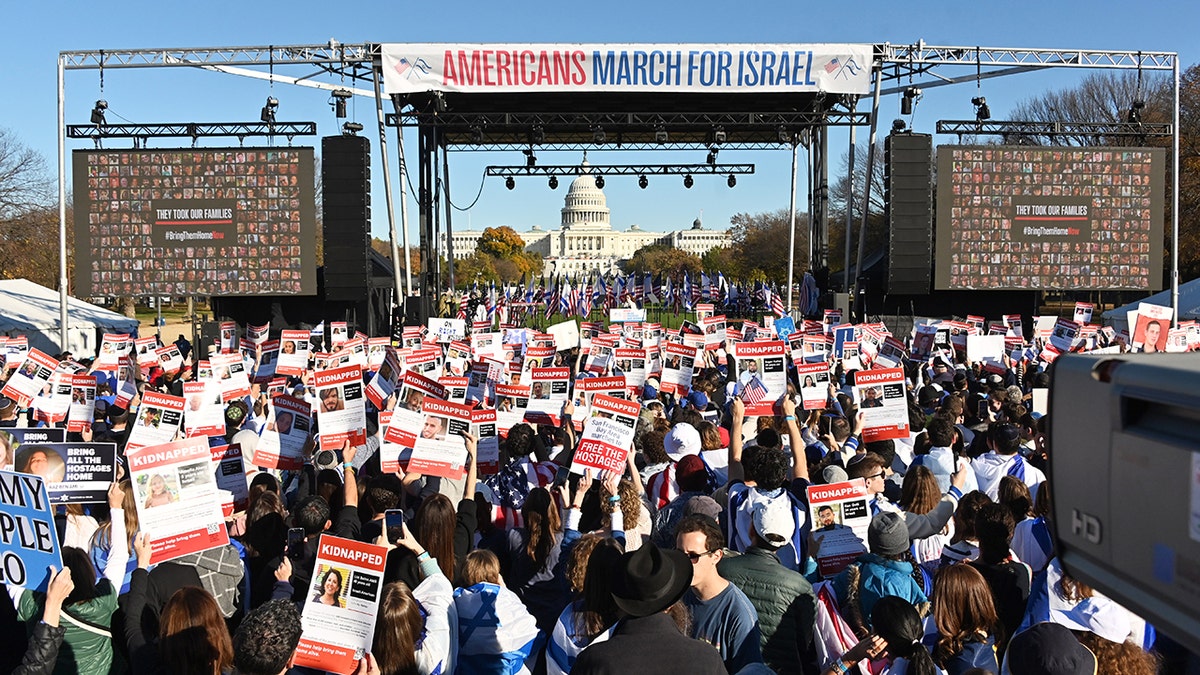 Hamas has claimed that a number of hostages were killed by Israeli airstrikes in Gaza. The Israel Defense Forces has relentlessly bombed the Palestinian territory and conducted ground operations with soldiers and tanks in the weeks since Hamas infiltrated Israel on Oct. 7. More than 1,200 Israelis, mostly civilians, were killed in the initial terror attack and potentially hundreds were taken captive back to Gaza City, the largest population center in the region. 
Hamas maintains a labyrinth of tunnels beneath the city, and Israeli officials have said many of the hostages are likely being held there.
PRO-PALESTINIAN PROTESTERS WILL NOT ANSWER WHETHER HAMAS IS A TERRORIST ORGANIZATION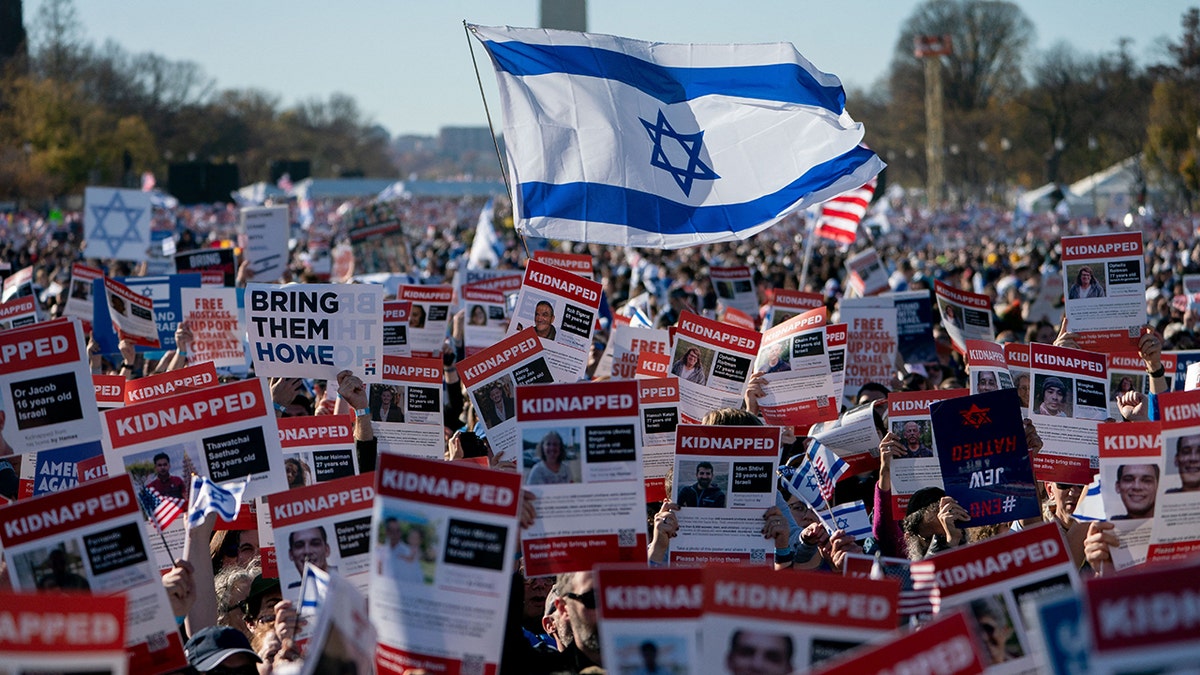 The Hamas-run Gaza health ministry claims Israel has killed over 11,000 Gazans since the fighting began, though the group makes no distinction between terrorists and civilians. The U.S. has rejected the ministry's figures outright.
Tens of thousands of people gathered in Washington, D.C., on Tuesday in solidarity with Israel and in opposition to antisemitism.
CLICK HERE TO GET THE FOX NEWS APP
Organizers of the "March for Israel" expected as many as 100,000 people for the event, which took place from 1 p.m. to 3 p.m. ET on the National Mall in Washington, D.C. 
Herzog thanked those attending the rally for their support on behalf of the Jewish state and praised the Biden administration and pro-Israel lawmakers for their "moral clarity" and "bold action" in standing with Israel.
Fox News Digital's Anders Hagstrom contributed to this report.