A Georgia inmate is set to face new criminal charges after tunneling through a shower wall to stab another inmate, police say. 
The alleged attack by inmate Kavian Thomas on Derondney Russell – who was being held in a neighboring cell block — happened Wednesday night at the Fulton County Jail, according to Fox5 Atlanta. 
"It presents a constant challenge for us to eliminate things like this from access to the inmates," interim Fulton County Jail Commander Curtis Clark told the station. "This jail has clearly outlived its useful life. That reality makes it even more challenging for us to do our job of providing the safest possible environment, not only for staff but for the inmates as well." 
Images released by the Fulton County Sheriff's Office show a hole big enough for a man to crawl through carved out from the wall of a shower in one of the Atlanta jail's cell blocks. 
KENTUCKY INMATE KIDNAPS 2 PEOPLE AFTER ESCAPING CUSTODY 
An incident report said Thomas managed to tunnel through the wall and get access to an adjacent cell block, where he attacked Russell, Fox5 Atlanta reported.
The station, citing the document, also reported that Russell suffered superficial stab wounds to his upper body and is receiving care in the facility's medical unit. 
The motive for the stabbing was not immediately clear. 
Thomas is now facing pending criminal charges in relation to the attack, according to Fox5 Atlanta. 
Following the alleged incident, Clark told WSB-TV that numerous contraband items were found in a search of the neighboring cell blocks. 
"We found shanks that were made from parts of the building," he told the station, noting that at least five weapons were uncovered during the searches. 
SEE THE AFTERMATH OF A SIX-HOUR STANDOFF BETWEEN INMATES AND THEIR JAILERS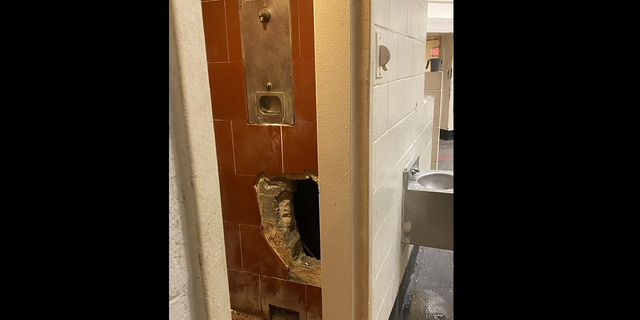 Authorities also released images of those weapons. 
Fulton County Jail records show Thomas has previously been imprisoned there on charges including armed robbery, arson, and aggravated assault with a deadly weapon. 
A search of records for Russell did not turn up any charges. 
Elsewhere in the Georgia prison system, an inmate in Henry County, outside of Atlanta, recently was charged with murder following the death of another inmate. 
The Henry Herald newspaper, citing the Henry County Sheriff's Office, reported that Cameryn Crayton, 51, was involved in an altercation on April 21 inside the Henry County Jail that left the victim with life-threatening injuries.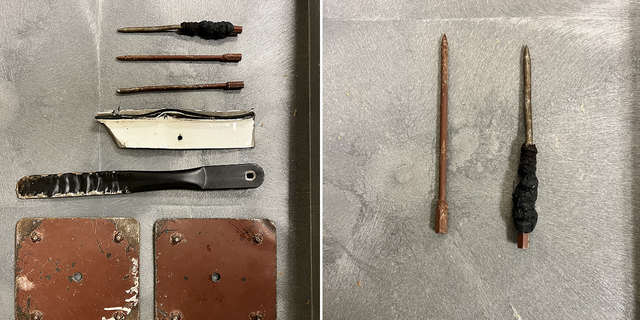 CLICK HERE TO GET THE FOX NEWS APP 
That inmate, who has not been publicly identified, died on May 14 while in hospital care. 
Crayton has since been charged with one count of murder and two counts of aggravated battery, the newspaper reported.