A 13-year-old suspect wounded a police officer in Florida during a foot pursuit on Wednesday before getting shot several times in a "gun battle" with responding officers, authorities said.
The pursuit began around 5:15 p.m., when Officer Jamie Smith heard gunfire from a drive-by shooting at Simpson Park while investigating a separate call in the area, Lakeland Police Chief Sam Taylor told reporters at the scene.
Smith spotted the suspects' vehicle, a Dodge Avenger, and tried to pull it over. The driver, however, refused to stop and led Smith to an apartment complex on 10th Street, where three suspects exited the vehicle and fled, police said.
Smith chose to chase after the 13-year-old after seeing that he was carrying a handgun, Taylor said. The officer repeatedly commanded the teen to drop the gun, an order Taylor said the teen ignored.
CHICAGO MAN GETS 60-92 YEARS FOR SHOOTING, CRITICALLY WOUNDING IOWA DEPUTY
"As he rounded the corner of the building, the 13-year-old was waiting for him in a crouched position with the handgun aimed toward the officer and fired at least one round," Taylor said.
Smith, who has been with the department for less than two years, was struck in the foot and returned fire, the chief said. Despite being shot, the officer radioed that he was continuing the pursuit.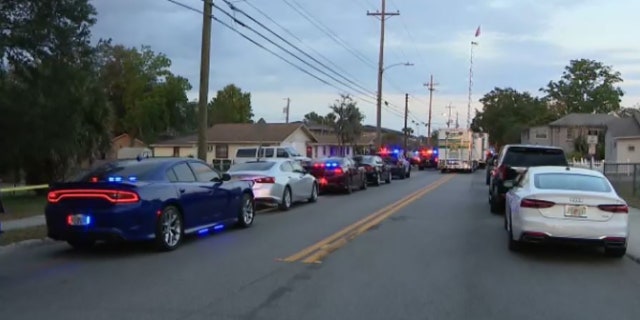 Additional officers began to arrive when the 13-year-old jumped out of nearby bushes and tried to flee.
CHICAGO POLICE OFFICER AREANAH PRESTON MURDER: ACCUSED COP KILLERS ORDERED HELD WITHOUT BAIL
Taylor said officers and the teen engaged in another "gun battle." The boy was struck multiple times and rushed to a hospital with non-life-threatening injuries, authorities said.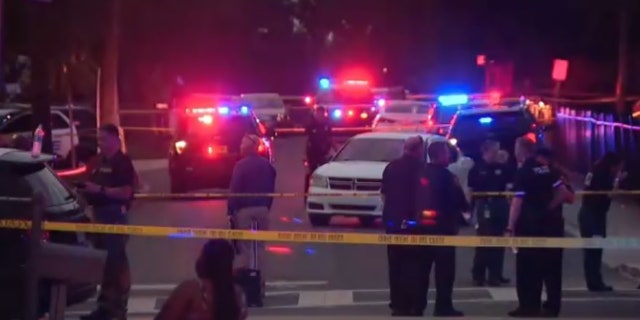 "We don't want him on the streets," the Polk County Sheriff Grady Judd said. "It's just a matter of time until he hits someone, and just by the grace of God, he didn't hit anyone with the drive-by this afternoon. But this is serious business. He entered into adult criminal activity, and we're going to treat him like an adult, doing violent, felonious criminal activity."
The teen has a criminal history and was arrested in January for carrying a stolen gun during a burglary. He was charged with multiple felonies in that case, the sheriff said.
Judd said Smith's response to the shooting and pursuit to keep the community safe was "remarkable."