Meghan Markle was not the only familiar face missing from King Charles' big day.
The eldest son of Queen Elizabeth II was crowned on Saturday at London's Westminster Abbey. The 74-year-old became the U.K.'s new monarch upon the death of his mother. The queen, Britain's longest-reigning monarch, passed away in September 2022 at age 96.
Elizabeth Hurley, one of Britain's most sought-after stars, was away from her home country during the historical event for good reason. The model, actress and swimsuit designer traveled across the pond to help raise a whopping $10.3 million for breast cancer, People magazine reported on Wednesday.
The 57-year-old is a longtime Global Ambassador of the Estée Lauder Companies' Breast Cancer Campaign.
ELIZABETH HURLEY STUNS IN AN ANIMAL PRINT BIKINI AT 57
"I was in America, so I didn't watch it live," the former "Royals" actress told the outlet. "I had to watch it delayed and the bits I watched were absolutely gorgeous, just elegant, beautiful and majestic – and I'm so glad I wasn't in charge. Can you imagine? Can you imagine how to organize that?"
Still, the English health activist admitted to having a serious case of missing out.
"My friends had their own tea parties and their own watching parties and of course, I felt a bit left out," said Hurley, adding she later watched the event in full on YouTube.
"But it looked magnificent," she added.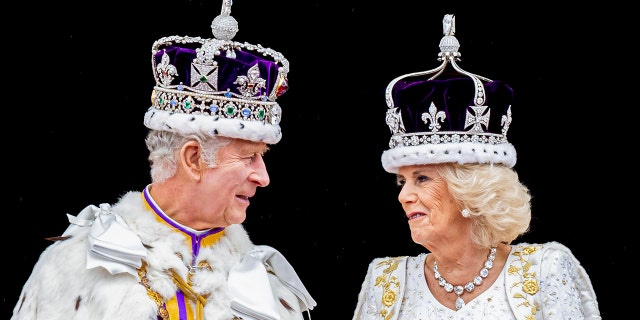 According to the outlet, BCRF co-chair Sir Elton John surprised guests at a New York party raising awareness for the cause with a video message. In it, the 76-year-old spoke about the "extraordinary work" the Breast Cancer Research Foundation has done over the years.
The foundation, founded in 1993 by Evelyn H. Lauder, is the largest private funder of breast cancer research in the world, the outlet revealed.
Back in 2017, Hurley spoke to the outlet about how Estée Lauder's daughter-in-law approached her about working on a breast cancer campaign because "women are dying of breast cancer, and nobody is talking about it." Hurley described how at the time her grandmother had just died from breast cancer.
"She didn't talk about it," she reflected on the late matriarch's battle with the disease. "She didn't talk about her treatment. When she found a lump she didn't tell the doctor for over a year because she didn't want to hear what he said."
CLICK HERE TO SIGN UP FOR THE ENTERTAINMENT NEWSLETTER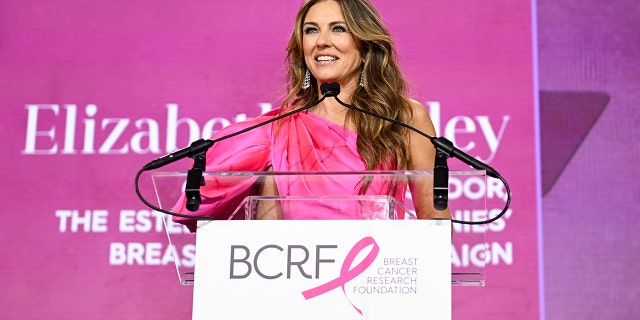 The "Austin Powers" alum has also kept busy in other ways. To the delight of her 2.6 million followers on Instagram, she has been posting her bikini photos, including one of her "twin" aka her reflection.
Hurley launched a London-based swimwear label named Elizabeth Hurley Beach in 2005.
"I decided to venture into beachwear not only because I've always been obsessed with vacation clothes, but also because it's an area where women, regardless of shape or size, can either look amazing or really get it wrong. I wanted to develop resort collections, which make women feel fabulous at any age," she announced on the company's site.
In May 2017, the star told Closer Weekly that being a mom inspired her to launch the brand. She previously took a break from Hollywood to focus on motherhood but found herself wanting to do something new professionally.
ELIZABETH HURLEY CONFESSES RAISING SON HELPED LAUNCH HER BIKINI BUSINESS
"Looking after my son became my number one task, and it was a joy to have someone else on whom to focus," Hurley told the magazine. "I was 36 and had been worrying about myself for quite long enough. I stopped doing movies and TV for the first eight years of his life, and I don't regret it for a moment. I always put him first."
When it came to launching her swimwear collection, Hurley added, "It allowed me to be more flexible with my time and work when Damian was at school."
Still, Hurley insisted she was eager to take on new challenges as her son grew older.
"I love my life," she said. "I love change and I love new experiences."