Chris Hemsworth turns 40
Chris Hemsworth hit the waves alongside brother Liam Hemsworth and a friend as he celebrated his 40th birthday in August. 
The "Thor: Love and Thunder" actor was spotted chatting with the two in a parking lot ahead of a surfing session in Byron Bay, Australia. Hemsworth showed off his famously toned physique in a black wetsuit, which he pulled down to his waist as he checked his phone. 
The Australia native and his wife Elsa Pataky, 47, left Los Angeles and moved back to Hemsworth's home country with their daughter India Rose, 11, and twin sons Tristan and Sasha, 9, in 2015. In 2020, Liam and brother Luke Hemsworth each bought property in Byron Bay, nearby Hemsworth and Pataky's $20 million mansion.
The Spanish model shared a sweet tribute to mark her husband's milestone birthday on Aug. 11. "That's exactly the face a made when I turned 40 my love," she wrote in the caption of a photo of the pair. 
She continued, "But don't worry, it's gonna be ok! I'll be here for you too [sic] hold your hand and give you all my beauty secrets even if you look better than ever. Happy birthday @chrishemsworth!"
CHRIS HEMSWORTH SAYS HE'S TAKING A BREAK FROM ACTING TO SPEND TIME WITH FAMILY AFTER FACING HIS OWN MORTALITY
On Aug. 23, Hemsworth shared a shirtless snap in which he was seen relaxing in a sauna with a friend after an ice bath. "No better way to finish a workout," he wrote in the caption.
Brad Pitt goes shirtless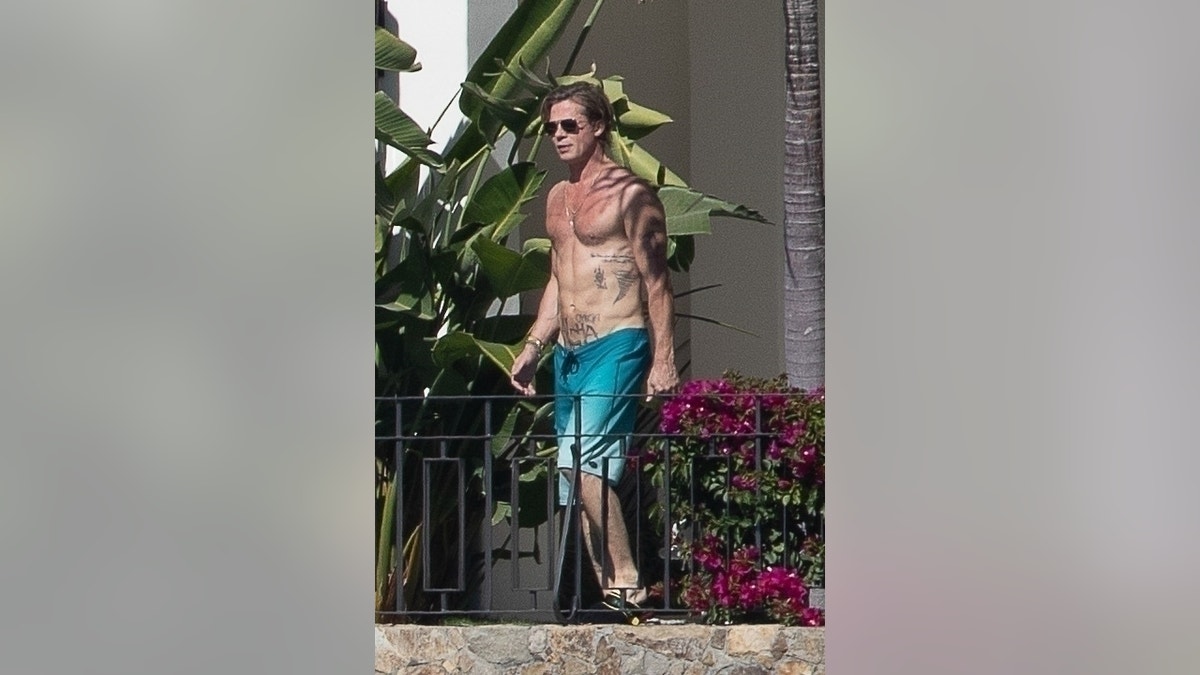 Brad Pitt turned up the heat in January while on a New Year's vacation with his girlfriend Ines de Ramon in Cabo San Lucas, Mexico.
The 59-year-old actor put his chiseled physique on full display as he went shirtless in a pair of turquoise swim trunks while relaxing by the pool with Ramon. The LA-based jewelry designer, who has been linked to the Oscar-winner since last November, opted to sunbathe topless with a blue patterned sarong around her waist.
Ramon, who was previously married to "The Vampire Diaries" star Paul Wesley, was recently spotted out wearing a gold "B" initial necklace, with a source telling Entertainment Tonight that the couple are still "seeing each other and having fun."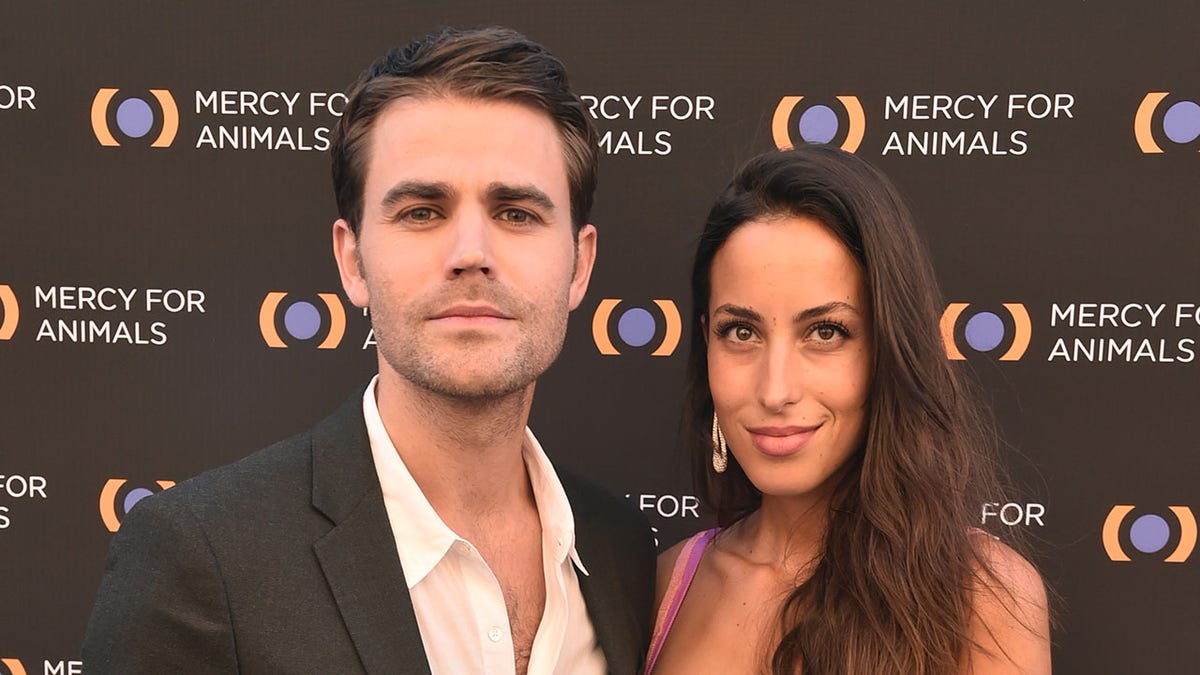 "They enjoy each other's company and have similar interests," the insider added. "They're both creative, like to travel, and are happy being low-key. Things are good between them, but Brad isn't rushing anything."
"Brad is very careful and intentional about who he dates," the source noted. "He likes to ease into things and let things grow naturally."
BRAD PITT SUNBATHES WITH TOPLESS GIRLFRIEND INES DE RAMON IN MEXICO AMID 'SEMI-RETIREMENT' PLANS
Meanwhile, Pitt has been locked in an intense legal battle with his ex-wife Angelina Jolie over the couple's former French vineyard, Château Miraval. 
Pitt and Jolie, 48, were married for two years before the actress filed for divorce in 2016. The two became legally single in 2019. The former couple shares six kids: Maddox, Pax, Zahara, Shiloh, and twins Vivienne and Knox.
George and Amal Clooney color-coordinate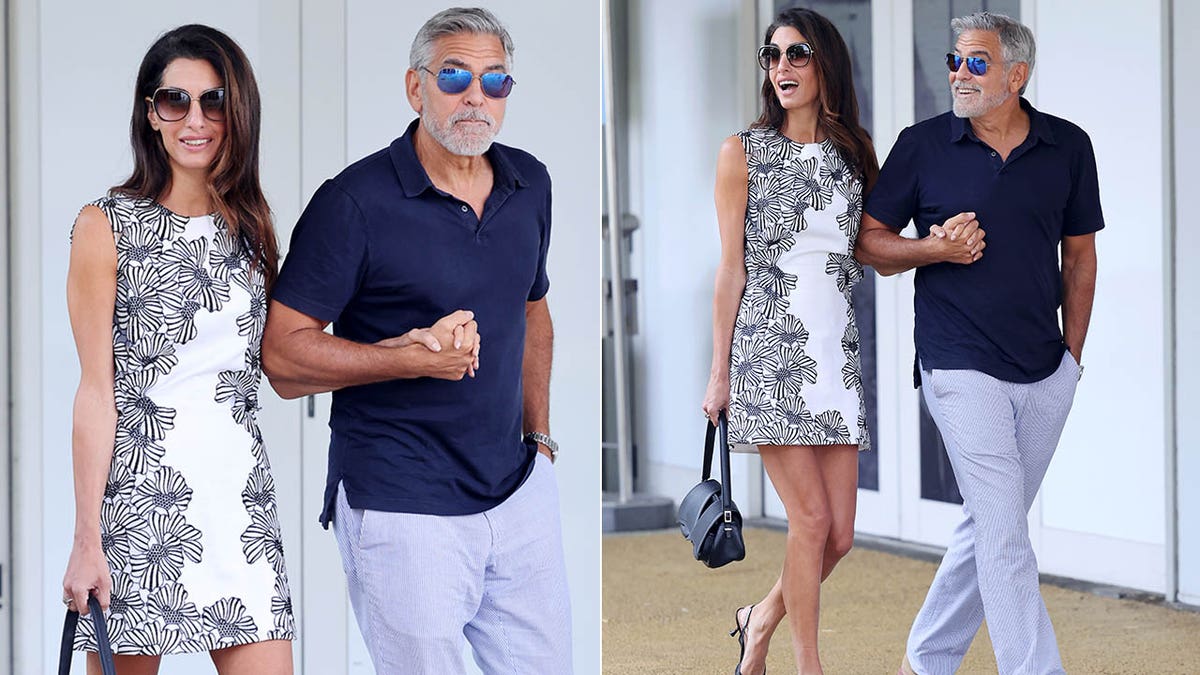 George Clooney looked sharp as he stepped out with his wife Amal Clooney in Venice, Italy, ahead of the 80th Venice International Film Festival in August. 
The 62-year-old actor and the 48-year-old attorney, who have been married since 2014, wore color-coordinated outfits as they strolled hand in hand. The Academy Award winner donned a navy blue polo shirt and light blue pinstriped pants while Amal was clad in a navy blue and white floral sheath dress.
Clooney was once considered a lifelong bachelor before meeting his match in Amal, an international human rights lawyer who built her own successful practice representing high-profile clients, including Julian Assange and former Ukrainian Prime Minister Yulia Tymoshenko.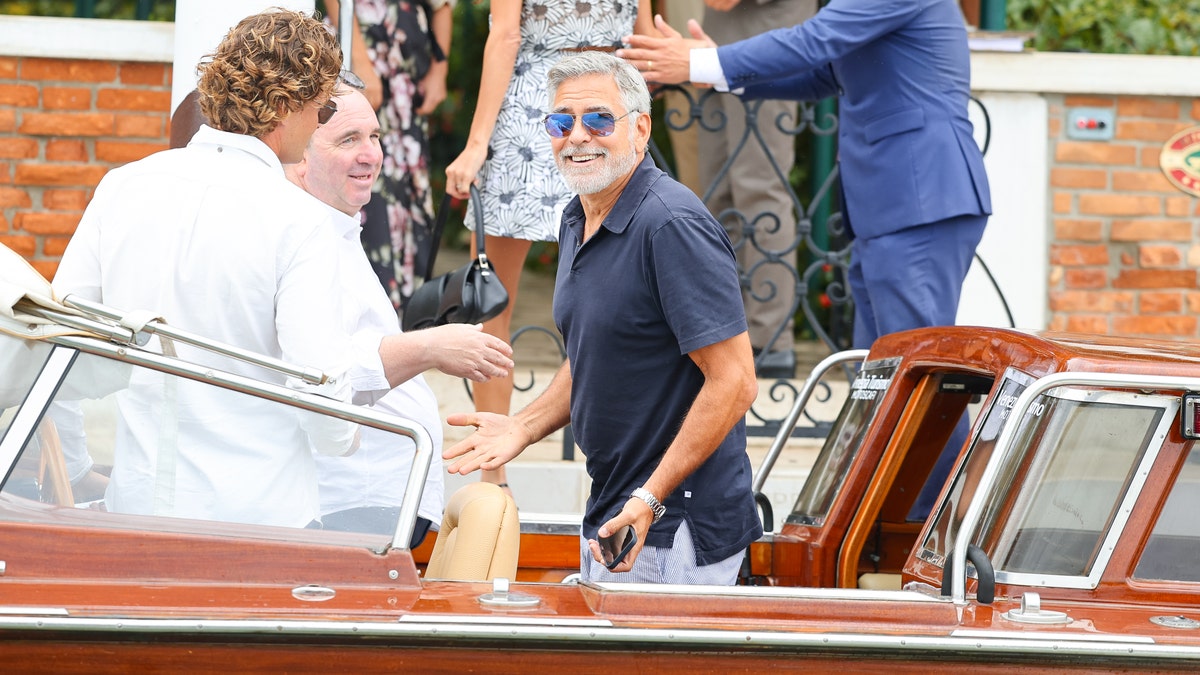 The two bonded over their dedication to championing human rights around the world and co-founded the Clooney Foundation for Justice in 2016. In June 2017, Clooney and Amal welcomed twins Alexander and Ella.
GEORGE CLOONEY ON WHY HE WON'T LET AMAL WATCH 'BATMAN & ROBIN': 'I WANT MY WIFE TO HAVE SOME RESPECT FOR ME' 
"Listen, I didn't want to get married; I didn't want to have kids," Clooney said during an appearance on the "WTF With Marc Maron" podcast in November 2021. "And then this extraordinary human being walked into my life, and I just fell madly in love."
The "Syriana" star went on to describe his wife as "the most extraordinary, smart, brilliant, beautiful woman" he's ever met, and said he "couldn't be happier."
"It is a joy beyond anything I could ever have imagined," Amal told Elle in 2022 of her marriage to Clooney. "I feel so lucky to have found a great love in my life, and to be a mother — this is how I get my balance."
Ben Affleck flashes abs 
Ben Affleck's wife Jennifer Lopez showed off her husband's impressive physique in a Father's Day tribute that she posted in June.
The 50-year-old Oscar winner was seen shirtless with his toned abs on full display in a mirror selfie that the 53-year-old star shared on Instagram.
"Daddy Appreciation Post. Happy Father's Day Papa," Lopez wrote. "And Happy Father's Day to all the amazing Papas out there!!"
"We love you and appreciate you more than you will ever know," she added.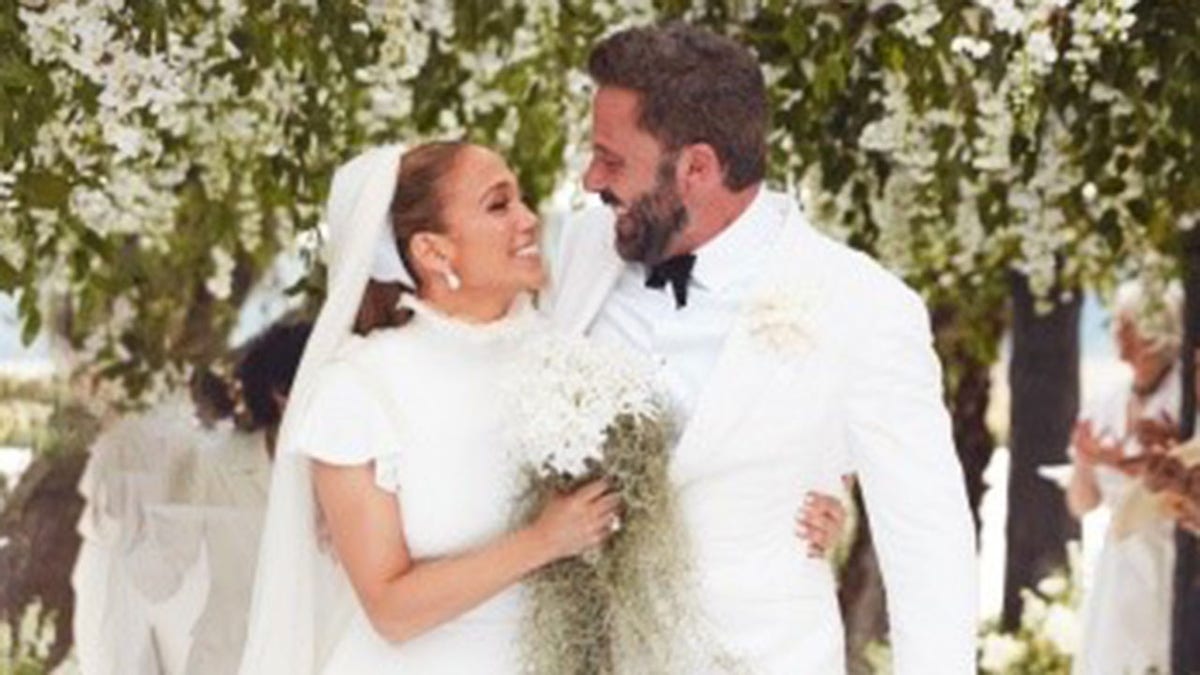 The pair, who tied the knot on Aug. 20, 2022, recently celebrated their one-year wedding anniversary. Affleck and Lopez wed during a lavish three-day celebration of their nuptials, which had been three decades in the making.
Affleck and Lopez were initially set to walk down the aisle in September 2003 but postponed their nuptials with just a few days' notice. The pair, famously dubbed "Bennifer," ended their engagement in early 2004 after two years together.  
CLICK HERE TO GET THE FOX NEWS APP
The "Argo" star later married Jennifer Garner, 51, with whom he shares daughters Violet, 17, Seraphina, 13, and son Samuel, 11. Affleck and Garner separated in 2015 and finalized their divorce in 2018, after 13 years of marriage.  
Lopez married Marc Anthony, 54, in 2004, but the two, who are parents to 14-year-old twins Max and Emme, divorced in 2014.  
After the "On the Floor" hitmaker ended her engagement to Alex Rodriguez in March 2021, she and Affleck rekindled their romance. Lopez announced that the couple had become engaged for the second time in April 2022.  
John Stamos poses nude
John Stamos recently celebrated his milestone 60th birthday by sharing a nude photo to Instagram. 
The "Full House" alum's wife, Caitlin McHugh Stamos, snapped a photo of Stamos looking over his shoulder in an outdoor shower.
"The other side of 60," Stamos captioned the picture, which was strategically cropped to not show his backside.
Caitlin also shared a tribute to the actor on Instagram on Aug. 19, the actor's official birthday.
"Can you believe this man is 60?! The only way he shows his age is in his wisdom and his extensive list of life accomplishments," she wrote.
APP USERS CLICK HERE TO VIEW INSTAGRAM POST
Stamos and Caitlin tied the knot in February 2018 after two years of dating. The couple welcomed their first child, son Billy, in April 2018.
Prior to Billy's birth, Stamos gushed over finding the "right girl" in an interview with Entertainment Tonight.
"She's so beautiful pregnant. She's so magical," the "ER" alum said of Caitlin.
JOHN STAMOS HELPS LA SHERIFF'S RECRUITS INJURED IN WRONG-WAY CRASH
He continued, "She is the most graceful person I've ever met in my life, and she's handling pregnancy like a champ. Every day I say, 'You're doing so great, you're doing so great.' Just every day I'm with her I just realize, first of all, how lucky I am, but what a special human she is." 
"She's magical. She floats into a room. I've never heard her say a bad word about anybody."
Mark Wahlberg flaunts muscles
APP USERS CLICK HERE TO VIEW INSTAGRAM POST 
Mark Wahlberg showcased his muscular physique in a video that he shared to Instagram in June.
The 52-year-old actor went shirtless in a pair of blue jeans as he stood in front of a wet bar stocked with bottles of his Flecha Azul tequila brand.
CLICK HERE TO SIGN UP FOR THE ENTERTAINMENT NEWSLETTER
The "Ted" star, known for maintaining his fit form through a rigorous routine, which he revealed in 2018, includes waking up at 2:30 a.m. for his first workout of the day.
Last year, Wahlberg told the Wall Street Journal that he had started sleeping in until 3:30 a.m. 
"I always start with a little bit of prayer time. And then take my vitamins," he explained. "I used to eat breakfast. Now I'm all about intermittent fasting. I don't eat; I just go work out."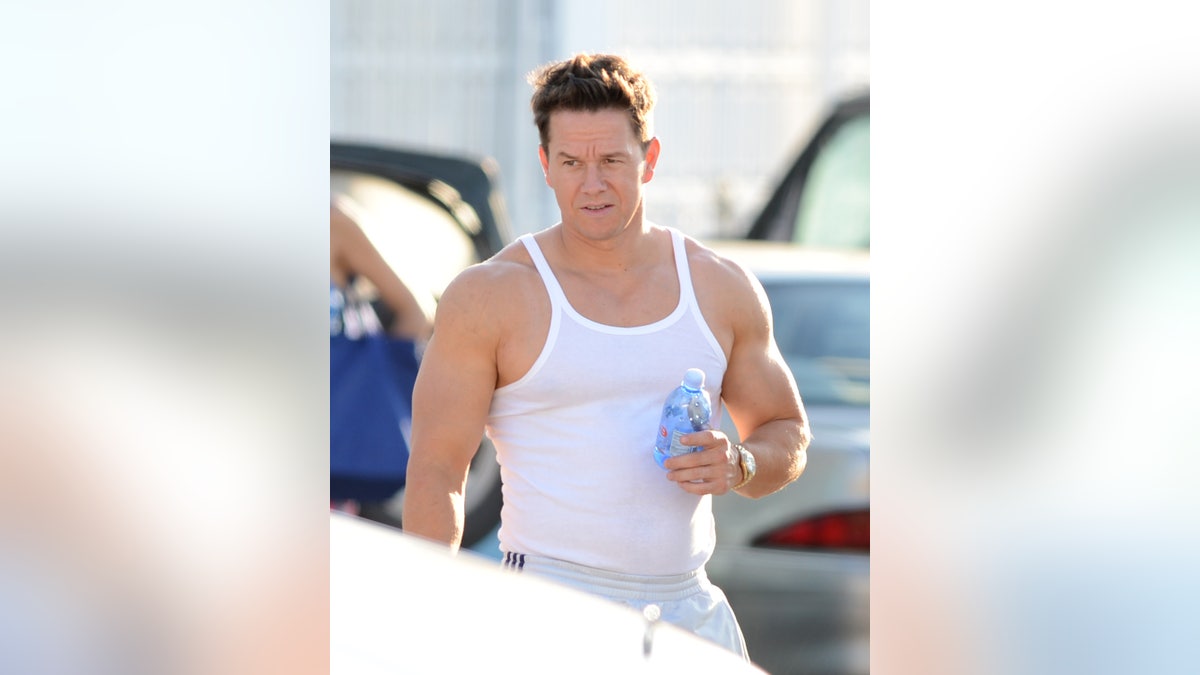 In an interview with Page Six in June, Wahlberg shared his thoughts on the latest weight loss trend to sweep over Hollywood — taking Ozempic or other injectable semiglutide medications to shed pounds.
MARK WAHLBERG DOESN'T 'SHY AWAY' FROM HIS FAITH: 'IT'S JUST THE MOST IMPORTANT ASPECT OF MY LIFE'
"To each his own, but I do encourage people to eat right and exercise," Walhberg told the outlet. 
CLICK HERE TO GET THE FOX NEWS APP
"It's much more [of] a lifestyle change. You'd be surprised what you can accomplish when you're willing to do the work," he added.
The Boston native explained that he prefers to stay in shape "the good old-fashioned way" which he said was the "most sustainable" route."
"It will give you the longevity," Wahlberg said.
"Everybody has their own path. I don't knock anybody for making their own choices," he explained. "But I prefer, and I've seen lots of people accomplish amazing things, ordinary people doing extraordinary things on a fitness base, and they're now encouraging other people that look like them. That's what I'm into."
Fox News Digital's Lauryn Overhultz contributed to this report.